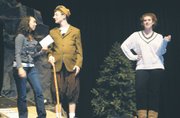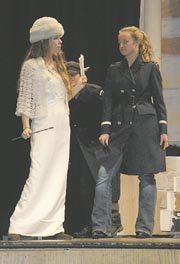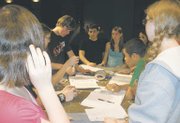 Leaves falling and temperatures dropping, for most people signifies not only the advent of winter, but the hectic holiday season as well. For students at area schools the time marks the start of a season that is just as frenzied and frantic, but instead of buying presents and cooking meals, they don costumes and memorize lines. For them, this is play season.
West Springfield High School and Robert E. Lee High School are both immersed in preparations for their respective productions, "The Lion, The Witch and the Wardrobe," and "Godspeed." With so much work to do in such a short period of time, the students are showing the true meaning of commitment.
At West Springfield High School, drama teacher and production director Mary Jo Levesque chose a play adaptation of C.S. Lewis' "The Lion, the Witch and the Wardrobe" for her students to perform. Levesque picked the play, which focuses on the battle between good and evil in the fantasy world of Narnia, last June with the idea that it would appeal to all members of the community. If it has broad appeal, she said, it would sell more tickets, and in turn, benefit the theater program more.
"We were trying to find a show that had a lot of possibilities for characters and something that would be popular within the community," Levesque said. "Plays that children like are golden."
Though the play was chosen last June, due to auditorium availability, Levesque and her students were only able to start making scenery and begin rehearsals less than three weeks ago. As a result, Levesque is simultaneously giving directions to actors on stage, discussing set construction, lighting and sound with theater techs to ensure that the play is ready in the 19-day timeframe they were given. Her students, meanwhile, pick up the rest of the slack, giving constructive criticism to their peers onstage during rehearsals, designing costumes, and in the case of senior Kelsey Rose, even composing a 32-track original score.
"Mrs. Levesque said that she wanted to make the play special, so I offered to compose the score," Rose said. "I read the script several times and the music just came to me. Some of the songs have 16 different layers of instruments, so it was pretty intense [composing it]."
AT LEE HIGH SCHOOL, drama teacher and play director Andrea Berting is facing a tall order of her own, not only putting a play together in limited time, but having it be her first production ever as a teacher, as well. Berting is currently in her first year at Lee, and since the previous drama teacher had already chosen "Godspell" as the fall production, she decided to stick with it.
"The teacher here before me was planning on 'Godspell,' and since I got hired two weeks before school started, I figured it'd be easier to stick with it," Berting said. "The previous teacher thought it was a good idea, and it clearly was."
Berting conducted auditions for the play in early October, and like West Springfield, was only able to start rehearsals later that month. Since the play is a musical portraying parables from the Gospel of Matthew, it has required more preparation than a typical production because in addition to memorizing lines and stage movements, choreography and songs had to be learned as well. Due to Berting's experience in musical theater, though, she said that the students have been able to pick things up quickly and stay on schedule.
"Rehearsals have been going very well," Berting said. "You always wish you had more time, but the kids have really stepped it up. It's great that they have the dedication to do that."
Though both schools have been forced to operate under less than ideal time constraints, Levesque and Berting are both confident that the effort and enthusiasm that their students put into their respective productions will result in resounding successes, and their students feed off of that confidence. Through effective communication, camaraderie and cooperation, their teachers said, the students were able to make it happen.
"It's been very hectic, but it's been a ton of fun," said West Springfield High School sophomore John D'Angelo, echoing a shared sentiment of both schools. "We've had to throw the show together in a short amount of time, and it's always crazy, but it will turn out great."