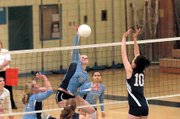 The Yorktown volleyball team calmed its worries about National District newcomer Hayfield on Sept. 24, sweeping the Hawks at Hayfield Secondary School.
The defending champion Patriots figured the Hawks to be the biggest threat to their district crown. But Yorktown continued as the district's dominant program, led by a 20-kill performance by Player of the Year Elyse Bush.
More than a month later, the teams met at Yorktown High School for Thursday's district tournament championship match. But this time, Bush was in a T-shirt and sweat pants, her season having ended with a knee injury the previous week, and Hayfield played like the superior team.
New to the National District, the second-seeded Hawks captured the district title with a 3-0 (25-20, 25-17, 25-22) victory over No. 1 Yorktown. Each game was tightly contested until the Hawks put together a late run.
The opener was tied at 19 before Hayfield scored six of the final seven points. The Hawks led 20-17 in game two before closing with five straight points. Game three was tied at 22 before a pair of Yorktown errors and a service ace by Hayfield's Shannon Pier gave the Hawks the title.
"It's something that we've been talking about since the beginning of the season," first-year Hayfield head coach Jeffrey Bergen said of winning the district. "The girls have worked really hard for me. … Without Bush on their team — she's definitely a huge asset to their program. Are we a team that can overcome that type of adversity? Yes. With or without her out there on the floor, I feel like we would have pushed and we would have prevailed."
WITHOUT BUSH as a powerful finisher, the Patriots had limited success hitting against the block of the taller Hawks.
"It was frustrating. I just wanted to play," the senior Bush said. "I think we easily could have beaten them if I was playing. If I were them, I wouldn't have been very satisfied with this win because they weren't playing our best team."
While Yorktown had to work hard for nearly every point, Jessica Kolden and Alex Lambert racked up big kill numbers for Hayfield. Kolden finished with a match-high 20 kills while Lambert added 15.
Ashley Rock led Yorktown with 11 kills. Freshman Katie Rock finished with seven kills for Yorktown and senior Courtney Duran had three. Junior Malaika Bain-Peachey, who took over at outside hitter when Bush was injured, also had three kills.
"I think with Elyse we are clearly the better team," Yorktown head coach Brittanie Behar said. "Without her we're still the better team, it's just closer."
Duran was frustrated after the match.
"We've … been one of the top teams in this district for a very long time," the senior said, "and to have someone move into our district and then win it, it's kind of upsetting to us. We're not on the top anymore."
PATRIOT SPIRITS were higher the previous night, when Yorktown defeated Washington-Lee in the semifinals. The win avenged the Patriots' Oct. 28 loss to the Generals — Yorktown's first National District loss since 2007 — during which Bush went down with her knee injury.
Ashley Rock led Yorktown with 25 kills. While the sophomore played well enough to earn first-team all-district honors during the 2009 season, she came through with one of her most dominant performances when it mattered most — in the postseason with Bush on the bench.
"I was just really pumped up for this game," Rock said. "I just wanted to win really bad, especially since we lost to them last week. We weren't going to lose again."
Rock's kills were a mixture of power and placement. She followed several points with an intense, enthusiastic display.
"She, over the season, has gotten much more aggressive, which we need," Behar said. "And we really need leadership development and I think she's doing a really good job with that."
Middle blocker Aliya Winker led the Generals with 13 kills. First-team all-district selection Rebecca Jones finished with 12 kills.