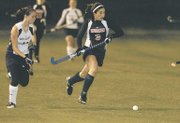 Following W.T. Woodson's loss to South County Secondary School in the Northern Region Field Hockey Championships on Nov. 5 at Oakton High School, Cavalier midfielder Shelly Montgomery fought back tears of frustration and disappointment.
"I'm kind of blaming myself [for the loss]," Montgomery said. "I'm just frustrated I couldn't be a hero tonight."
The disappointing game, however, ended on a positive note for Montgomery. For the second year in a row, Montgomery was named Northern Region Player of the Year, capping a season where she fought back from a leg injury that sidelined her at the season's start.
"It's amazing being voted [player of the year] again," Montgomery said. "I know all the players in the region and everyone is so good. It's an honor to win it."
While Montgomery did take home one award for her team, the Cavaliers' region title hopes were upset by South County in penalty strokes after playing to a 0-0 tie after 90 minutes.
Woodson was only able to convert on two of its four penalty stroke opportunities, while South County scored on four of five.
This wasn't the first time these two teams engaged in a thrilling match up. Woodson was previously upset by the Stallions 2-0 in the Patriot District final on Oct. 22.
"South County is a great team and this was a great representation of a championship game," said Woodson head coach Becky Preston. "You can't ask for much more."
The game proved to be a frustrating affair for Montgomery and the Woodson offense, as the Cavaliers assaulted South County goalie Kirsten Olsen with 13 shots and 17 penalty corner attempts, but couldn't turn those chances into goals.
"I tried to just think 'We'll get it the next time' or 'It wasn't meant to be that time,'" Montgomery said.
Despite the disappointing outcome, Preston said she is proud of the team's accomplishments this season and in the region tournament.
"We played really well," Preston said. "The girls did everything I asked them to do during the week. We talked about what we would need to do to win, but [South County's] goalie did an amazing job."
Preston also was impressed with her team's defense, which didn't allow the Stallions' to record a shot on the stat sheet and cleared all three South County corner attempts.
"That's a credit to how our defense played tonight," Preston said. "[Defender] Emily Patterson and the defense stepped up time and time again to feed the ball to our offense."
Despite the strong defensive effort, Preston was frustrated by South County's equally strong defense.
"We just couldn't seem to find the back of the goal," she said. "We had a sense of urgency to score [all game], but it just didn't go our way tonight."
Although the Cavaliers lost in the region finals, they will have a chance to compete in the State Tournament, Nov. 10-14 in Virginia Beach.
"The loss to South County is just going to make us push even harder," Montgomery said. "We're going to see the level of play raised in the state tournament, so we need to suck it up and get back to work."