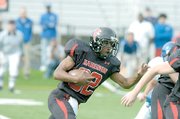 It's time for the Northern Region football playoffs following the conclusion of the regular season this past weekend. Four Div. 6 (larger enrollment schools), and four Div. 5 (smaller schools) first round playoff games are slated for this Friday night.
In Div. 5, games scheduled to be played are: No. 8-seed South Lakes at top seed Stone Bridge; No. 7 McLean at No. 2 Lee; No. 6 Yorktown at No. 3 Hayfield; and No. 5 Edison at No. 4 Madison.
Stone Bridge (9-1) of Ashburn, the two-time defending Div. 5 region champion, has been less dominant this fall than in recent years despite its excellent record. The Bulldogs won three games by three points (over Westfield, 21-18, West Springfield, 36-33, and Langley, 17-14) and lost to Liberty District opponent Madison, 28-14, at home on Oct. 19.
But Stone Bridge appears to be at or near the top of its game in recent weeks with victories over McLean, 38-21, and South Lakes, 45-22, to close out the regular season. In a Div. 5 playoff field not as formidable as in the past few years, with teams like Edison and Yorktown not being as strong, the Bulldogs could roll towards another title.
Their first round opponent, South Lakes (5-5), whom the Bulldogs played last week, was one of the surprises of the season after a 5-1 start, including a win over Madison at the Warhawks' homecoming. But the Seahawks have cooled off since with four straight losses to conclude the regular season. Still, it has been an overall good season for a South Lakes team that had combined to win just four games over the past two seasons.
South Lakes has a potentially explosive offense with the likes of talented running backs Ja'Juan Jones and Darius Smith, along with wide receiver Sean Price and quarterback Shawn Rana. The Seahawks love to run the football behind premier tackle Kevin Ball.
The Seahawks, over the last month, lost lopsided games to non-region foe Dominion, 46-20, as well as Stone Bridge, and also fell in closer affairs to district opponents Fairfax, 27-22, and Langley, 24-21.
McLean (6-4) has put together a dramatic turnaround season after last year's winless campaign. The Highlanders clinched a winning record with last week's dramatic, 35-34, overtime home win over cross-town opponent Langley (4-6). They have one of the region's top running backs in Riley Beiro, who ran for 284 yards and four touchdowns on 47 carries against the Saxons. The win snapped a two-game losing streak for McLean, which had fallen to Fairfax, 55-17, and Stone Bridge, 38-21, before edging the Saxons.
Coach Jim Patrick's McLean team will travel to Lee to take on the 7-3 Lancers on Friday. Lee experienced a three-game losing streak following a 5-0 start – the setbacks coming to Lake Braddock, 28-21, West Potomac, 17-7, and South County, 10-7 – before righting the ship with wins over West Springfield, 30-27, and T.C. Williams, 27-13, to close the regular schedule.
Madison (6-4) won its final two games to clinch a winning record, the wins coming over Jefferson, 34-7, and Marshall, 49-7. The Warhawks' most impressive triumphs this season came over Fairfax, 21-7, and Stone Bridge, 28-14. Madison is hosting an Edison team that has been in three straight Div. 5 title games, including a title game win over Stone Bridge in 2006. The Eagles are not as dominant as they have been in past seasons. They are 7-3 and their losses have come to West Springfield, 23-12, National District foe Falls Church, 16-14, and Hayfield, 28-21, last week. Edison enjoyed a five-game win streak earlier in the season, including wins over defending Div. 6 champion Oakton, 18-14, and Yorktown, 42-10.
Speaking of Oakton, the Cougars are a vastly different team than the experienced, super talented squad of a year ago that finished 14-1 overall and won both the Concorde District and region titles. This year's Oakton squad is young but managed to squeeze into the Div. 6 playoffs with a 5-5 record. Oakton began the season 3-1 before going just 2-4 over its last six games, The Cougars closed the regular season with a 21-7 district win over Chantilly last week.
Oakton will travel to top seeded Woodson this Friday to face the 9-1 Cavaliers. Since a week three loss to Lee, 27-7, Woodson has put together a seven game win streak, including a 35-0 triumph over South County last week.
<b>Oakton Boys Defend Region Cross Country Title</b>
<bt>The Northern Region boys' and girls' cross country championships were held last Thursday at Burke Lake Park. Oakton (79 points) successfully defended last year's crown, finishing ahead of second place Lake Braddock (105), third place West Potomac (127) and fourth place Centreville (140). Each of the top four teams earned a seeding at this Saturday's state championships to take place at Great Meadows in The Plains.
Oakton's Andrew McCullen finished second overall in the boys' race, behind first place Chris Foley of Chantilly. Also for Oakton, Patrick Fulghum finished eighth overall, Matt Woodhouse was 11th and Padriac Flynn 14th.
Herndon High's Jack Jasper earned eighth place to qualify for states. Athletes who ran well but did not finish in the top 15 to qualify for states included Madison's Tom Inglis (17th place), South Lakes' Nick Guarnaccia (21st), Herndon's Troy Hunsaker (27th) and South Lakes' Will Sickenberger (28th).
Fifth place Jefferson was led by 10th place overall finisher Jonathan Phillips (Herndon resident), 20th place Jimmy Wu (Great Falls) and 26th place Will Manaker.
<b>THE TOP FOUR GIRLS'</b> team finishers were champion Lake Braddock (63), second place West Springfield (71), third place West Potomac (100) and fourth place Jefferson (126). Each of the top four teams automatically qualified for states. Team's not making states included sixth place Oakton, seventh place Langley and ninth place Herndon.
Top 15 individual girls' finishers who earned medals and qualified for states included Langley's Mary Fouse (8th overall), Langley's Jessica Miles (9th), Herndon's Carolyn Hennessey (13th) and Oakton's Lanie Smith (14th).
Other good individual outings came from Herndon's Carly Kulik (21st), Oakton's Alison Gregor (25th) and South Lakes' Val Moyer (29th).
Jefferson's top finishers were Stephanie Marzen (16th), who is from McLean, Sarah Stites (20th), a Reston resident, and Rehka Schnepf (26th), from McLean.