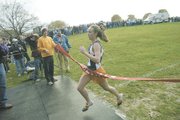 Winning the Northern Region Individual Cross-Country Championship on Thursday, Nov. 5 did not come easy for West Springfield High School senior Paige Kvartunas.
As Kvartunas emerged from a tree line in front of a crowd of people watching the race, Lake Braddock Secondary School freshman Sophie Chase ran just feet behind Kvartunas heels, moving into position to overtake the senior.
"It was a hard race," Kvartunas said. "[Chase] is a really good runner. I didn't want to let her get ahead of me."
Kvartunas fended off Chase for the remainder of the course, finishing Burke Lake's 2.98-mile cross-country route with a time 17:36. Lake Braddock's Chase finished just 6 seconds behind the Spartan runner.
"There were a few times that I knew I could win the race," Kvartunas said. "But [Sophie] stayed with me for the whole race and pushed me."
Kvartunas said that her pre-race plan went off without a hitch, despite a few scattered showers before the start time that muddied the course.
"I planned on going out at the beginning really fast and running hard all the way through the course," she said. "I wanted to get far enough away from everyone to win it."
Her victory is the first time that any girl from West Springfield High School has won the Northern Region title.
"It's a bigger race and there's a ton of good runners in this region," Kvartunas said. "It means [a lot] to win the Region."
The strong individual performance also earned her high praise from West Springfield head coach Duke Baird who said it was one of the programs and Kvartunas' best individual finishes.
"It was probably her best race this season," Baird said. "She's the first to win regional, and in our [area] that's pretty good."
The rest of the girls' team was in fine form as well and finished second overall in the team rankings. The girls' team will advance to the Virginia AAA Finals on Nov. 14 at The Plains, Va.
"I'm very pleased with the girls' team," Baird said. "We had seven personal best times [at the regional race]."
For Lake Braddock's freshman runner Sophie Chase, the second place finish was far from disappointing for the first-year varsity runner.
"I'm just so happy about how this team has helped me," Chase said. "We have great support, great coaches and we work hard every practice."
Chase, who finished with a time of 17:42, said that her teammate Liana Epstein's injury during the Patriot District Championship last week inspired her to go all out at the Regional race.
"I really felt inspired when one of our elite runners fell 100 meters before the end of the race," she said. "It inspired me to do my best at this race and get the best place for my team."
Epstein stumbled at the end of the Patriot District Championship race on Oct. 29 from what her coaches say was dehydration, but she was able to rehabilitate in time to participate in the regional race.
"I'm healthy and I took a few days off," Epstein said. "[The injury] didn't affect me that much. I won't say I didn't have doubts [about returning], but when you step on the [starting] line, you have to put it all out of your head."
Epstein finished in fourth place with a time of 17:53.
The Lake Braddock girls' team captured first place in the team competition and the Northern Region title with an average team time of 18:19.
The Lake Braddock boys' team finished the team competition in second place with an average time of 15:59. Junior Luke Sohl was the Bruins' top finisher with a time of 15:47 for 10th place in the race.
Both teams advanced to the Virginia AAA State Finals on Nov. 14.