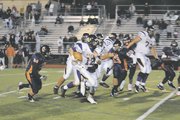 Lake Braddock Secondary's football team wasn't shy about labeling West Springfield High School as the focus of its ire this season. In fact, the whole Internet can watch them call out the Spartans.
On a YouTube video introducing the team's offense and defense, one-by-one, each Bruin featured names one team as the school's biggest rival — West Springfield High School.
After 10 grueling weeks of football, the Bruins can now relish their latest victory, a 42-13 drubbing of West Springfield on Nov. 6 at West Springfield High School.
"We beat them on Senior Night," junior quarterback Michael Nebrich said. "It doesn't get better than that."
Less than 2 miles separate the two schools, but adding to the intrigue of this cross-town rivalry was the Bruins' acquisition of former West Springfield head coach Bill Renner.
Renner, whose spread offense helped West Springfield win back-to-back Patriot District Championships since 2006, introduced his high-powered offense to the Bruins as the team's assistant head coach this season.
The additional spice to the rivalry did not go unnoticed by the Lake Braddock players.
"There was a lot of hype at the beginning of the week about Bill Renner coming here and us using his offense," said wide receiver Brandon Johnson, who caught eight passes for 170 yards Friday night. "But the players are the ones who beat them."
Interestingly, it wasn't Bill Renner's explosive offense that stole the show during the game.
While the offense delivered its usual thrills in the form of 395 passing yards courtesy of Nebrich, the Bruins defense showed just how big and bad it could be by forcing six interceptions, deflating the West Springfield attack.
"In practice, we go 100 percent," said safety Ross Renzi. "Our coaches tell us to bring the fire and we always bring the fire."
Coming together is one way to describe the Bruins' recent domination of opponents, a run that has seen the team outscore opponents 194 to 25 including the victory against West Springfield.
"We have no weaknesses on defense," Renzi said. "Every player is a playmaker. I know that if I mess up, someone will have my back and we can count on each other."
Lake Braddock head coach Jim Poythress said that his defense's recent string of success is coming at the right moment for the team that enters next week's' regional playoffs as the No. 3 seed.
"There's a lot of talent on the defense," Poythress said. "The defense is peaking and they're definitely peaking at the right time."
Adding to the pleasure of ending their rival's season without a post-season berth is the fact that the Bruins are Patriot District co-champions with W.T. Woodson High School.
W.T. Woodson and Lake Braddock both finished the season with 6-1 Patriot District records. Although Woodson defeated Lake Braddock 43-42, no tie-breaking procedures are in place for the District Championship.
Poythress, however, isn't completely satisfied with sharing the title with another team.
"Co-champions is nice and the kids will get a nice banner," Poythress said. "But let's see what we can do in the playoffs.
If you lose your first round playoff game, what good was it?"
Poythress is just as concerned with fixing issues he saw in the game with West Springfield as he is in preparing for No. 6 seeded Fairfax High School.
"I didn't feel like we were real crisp or executed as well as we could [against West Springfield]," Poythress said. "We had a lot of chances to put the game away early and we didn't necessarily do that."
While the team still has work to do before the post-season match on Nov. 13, the players agreed that being co-champions with a district rival simply isn't good enough.
"We've got a great chance of winning the region and states," Nebrich said. "It's very exciting right now."