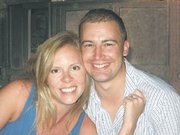 Carlton Glenn Smith of Nokesville, Va. and Denise O. Smith of Centreville announce the engagement of their daughter, Melanie Smith, to Martin Barna, son of Allen and Adrienne Barna, of Fairfax.
Melanie Smith is a graduate of the College of William and Mary and employed as creative director of RCN Corporation in Herndon. Martin Barna is a graduate of the University of Virginia and employed as traffic engineer at Wells + Associates in Tysons Corner.
A garden wedding will take place on June 26, 2010 in Alexandria. The newlywed couple will reside in Arlington.