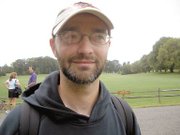 All season long, South Lakes has received solid production from boys' cross country runners Nick Guarnaccia, Austin Leggett and Will Sickenberger. And, at last week's Liberty District championships at Burke Lake Park, the trio led the Seahawks to a breakthrough second place overall team finish.
"Those three have been keys to our success this season," said South Lakes coach Kevin Donovan, of the three juniors. "They frequently finish within three seconds of each other."
It marked the best team finish for the South Lakes boys since 2001 when that fall's Seahawks also finished second. South Lakes' last district team title was in 1984.
"We ran a nice race," said Donovan, whose team, with 57 points, finished behind champion Jefferson (34) but well ahead of third place Fairfax (110). "There was a big gap between us and third place. So we had an opportunity to [focus primarily] on first place. It just didn't work out. We obviously would have liked to have won. I thought we did fine."
Guarnaccia, the Seahawks' top finisher at districts, was seventh overall. Leggett, meanwhile, took ninth place and Sickenberger was 11th. Also earning a top 15 medal was junior Alex Clough (12th).
Guarnaccia had missed the Seahawks' final big meet during the regular season – the MileStat.com Invitational in Chesterfield – as a result of a flu bug. But he came back strong to lead South Lakes at districts.
"I'm very happy with the way he ran," said Donovan. "He ran a pretty good race at districts and got seventh after not placing last year."
Sickenberger, who was also coming off a recent illness, had finished 25th overall in Chesterfield. He struggled somewhat at districts, but still had enough to earn All-District recognition by finishing in the top 15.
"It was a sort of mediocre race for him," said Donovan. "He still managed to get 11th place."
A year ago, South Lakes finished third at districts. Finishing second last week was a sign that the Seahawks are continuing to improve and get better.
"I think some real progress has been made," said Donovan, of the boys' program. "[Finishing second] was a big jump for the program."
Team highlights during the regular season included a third place finish at the MileStat.com meet, a top 10 showing at Oatlands in Leesburg and a fifth place finish at the season opening Monroe Parker Invitational.
The South Lakes boys will compete at the 16-team Northern Region championships this Thursday (Nov. 5) afternoon at Burke Lake.
<b>SOUTH LAKES'</b> Val Moyer earned a district medal with an 11th place finish at the Liberty District girls' championship meet. The senior, who did not place at districts last year, is now headed for regionals.
"If she has a good race [at regionals] she should be in contention to qualify for states," said Donovan, of the Seahawks' fourth year runner.
The top 15 girls' finishers at regionals will advance to the state meet Nov. 14 at Great Meadows.
South Lakes' next top finisher behind Moyer at districts was Mary Hickox, who finished 30th overall.