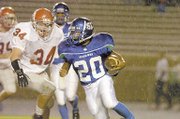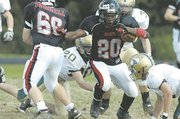 The area high school football teams – South Lakes, Herndon and Oakton – are set to wrap up the regular season schedule this Friday night.
South Lakes, which will likely qualify for the upcoming Div. 5 Northern Region playoffs, has lost its last three games following a 5-1 start. The Seahawks will have a tough mission this Friday in Ashburn against defending Div. 5 region champion and Liberty District opponent Stone Bridge.
South Lakes' last win came on Oct. 10 at Madison, 21-14. Since then, the Seahawks have lost to Fairfax, 27-22, non-region opponent Dominion, 46-20, and visiting Langley, 24-21, last Friday night.
In the loss to the Saxons, South Lakes had outstanding success running the football behind big games from running backs Darius Smith (138 yards, 2 touchdowns) and Ja'Juan Jones (108 yards, 1 TD). But Langley got a big game from quarterback Braden Anderson (14-of-26, 220 yards, 1 touchdown) and a 90-yard kickoff return by Marcus Harvey, son of former Redskins player Ken Harvey, to take the win.
<b>HERNDON</b> is also in the midst of a three-game losing streak after being 4-2 at one point. The Hornets (4-5) will try to finish their season at the .500 mark when they travel to Westfield for a Concorde District game on Friday. A year ago, Herndon got its biggest victory of the season with a homecoming win over the Bulldogs before ultimately losing to them in a first round game of the Div. 6 region playoffs.
Westfield, coming off a 24-7 win over Centreville, is 5-4.
Herndon struggled in a 35-7 district home loss to Chantilly last week. The Hornets' lone touchdown came in the final quarter on a 79 yard run by Austin Moore.
Herndon's last win was on Oct. 9 at Centreville, 35-30. Since then, coach Joe Sheaffer's team has lost to Oakton, non-region opponent Loudoun Valley and the Chargers last week. The Hornets will be looking to end the season with a victory when they take on Westfield.
<b>OAKTON</b>, also 4-5, started the season 3-1 with the wins coming over Madison, West Springfield and Annandale. But the Cougars, who went unbeaten during the regular season last year before winning the Div. 6 region crown, have lost four of their last five games, including a 35-17 setback at Robinson last week.
Oakton quarterback Jimmy Boone accounted for his team's biggest play of the game – an 83-yard touchdown run. Oakton's other touchdown came on a one-yard scoring run by Luke Willis. Eric Goins kicked a 42 yard field goal for the Cougars, who trailed 21-10 at the half.
Robinson improved to 8-1 with the win. The Rams' lone loss came against Westfield, a 21-20 overtime defeat on Oct. 19.
Coach Joe Thompson's Cougars will be looking to finish at .500 with a win over the Wildcats this week.