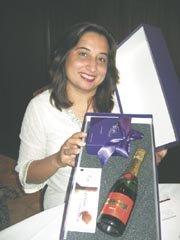 Local Morton's the Steakhouse restaurants threw champagne and chocolate parties the week of Oct. 19. Open to the public, the pairings featured a selection of four uniquely-endowed Vosges Haut-Chocolat pieces, partnered with two enhancing types of Piper-Heidsieck champagne.
At the Tysons Corner restaurant on Oct. 22, approximately 20 guests taste-tested each chocolate as Shannon Crisp of Remy-Cointreau described the nuances of Piper-Heidsieck Brut and Piper-Heidsieck Rose Sauvage.
"We've done a lot of events of this type," said Janet Walters of Dunn Loring, sharing the fun with her friend, Monica Bhide, a cookbook author. "The food was good. The champagne was very good. I would have hoped for more chocolate, though."
"We decided to try something different this time," said Bhide, also of Dunn Loring. "We haven't done a chocolate event before."
The Piper-Heidsieck Brut was sampled with the Vosges Gianduja and Ambrosia, while the Rose Sauvage was sampled with the Naga and Goji Berry. Gianduja is a mixture of almonds, caramelized hazelnut paste and milk chocolate. Vosges Ambrosia is a creamy ball of macadamia nuts, Cointreau and white chocolate. The intensely-flavored Naga is milk chocolate, accented with coconut and Indian curry flavoring. Goji Berry is milk chocolate infused with goji berries and pink Himalayan salt.
Matt and Andrea Deaton, whose real estate business is in Vienna, make it to six or seven of Morton's special events a year. For the Deatons, there with family on Thursday evening, these events are an opportunity to learn something while also having fun. Their next planned Morton's event is the Nov. 30 cigar dinner at Morton's Tysons.
"LOOK, SNIFF, SIP," said Remy-Cointreau ambassador Shannon Crisp, talking about a glass of champagne. Crisp advised sparkling wine drinkers to assess the color, clarity and bouquet of the bubbly liquid. As for the coupling of champagne and chocolate, Crisp instructed guests to first take a bite of chocolate, letting it melt on the roof of the mouth, then taking a sip of champagne, more chocolate, more champagne.
Crisp shared lots of trivia. A bottle of champagne has more pressure in it than an inflated tire does. Piper-Heidsieck Brut was Marilyn Monroe's favorite drink, saying that she drank a glass daily. The company's winemaker is rated number one in Europe.
In the reception area prior to the presentation and tasting, guests sampled Piper Sonoma Brut and took bites of smoked salmon, broiled sea scallops and filet mignon petite sandwiches. After the opportunity to mingle and socialize, guests moved to a private dining room.
The tour, which began in Georgetown earlier in the week, continued on to Reston the following night. Before the restaurant smoking ban takes effect, local Morton's restaurants will salute history with a cigar dinner.
To top off the evening, a door prize was awarded, and Bhide won it, an elegantly-packaged pairing of Piper-Heidsieck Brut and a collection of Vosges chocolates.
"This was worthwhile," said Bhide. "Come and learn. You can never have too much chocolate."