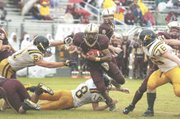 Mike Burnett, the Broad Run High football coach, knows exactly who to credit for his team's second consecutive regular season unbeaten mark – his players.
Broad Run defeated Dulles District opponent and host team Potomac Falls, 47-7, last Friday night to capture the district title and conclude the regular season portion of its schedule at 10-0.
The Spartans also went 10-0 last year during the regular season. From there, the Spartans went on to go 4-0 during the postseason, ultimately winning the state AA crown with a 13-0 win over Amherst County in Lynchburg.
Broad Run will begin its 2009 playoff run on Nov. 20 when it meets a yet-to-be determined opponent in a Div. 4 Region II semifinals playoff game. The Spartans have automatically earned a first round bye at the six-team playoffs and therefore do not have to play a quarterfinals game. Other teams likely to be a part of the Div. 4 playoff field include Sherando (Northwestern District), Liberty (Cedar Run District), Louisa County (Jefferson District) and Loudoun County, which like Broad Run is a member of the Dulles District.
Broad Run, with its 10-0 record, successfully defended its district title.
"It's a real testament to our kids week-in and week-out to perform," said Burnett, of accomplishing a 10-0 regular season mark in back-to-back years. "You really have to come out and execute over a long [season], and that's hard to do."
Now, with three weeks to rest up for its first playoff game, Burnett said his team has a chance to get some of its players healthy in what has been a physically challenging season thus far.
"We've got a little break," he said. "Hopefully, we can get healthy. We'll know who were going to play in a week or two. By then we'll start getting excited."
Perhaps the most dominant area of Broad Run's football team this season has been its seasoned, talented and bruising offensive line.
"Our strength is definitely our experience on the offensive line," said Burnett, who believes as many as four of his linemen could earn All-District honors. "They're pretty big physically and really moved guys around."
Linemen Johnny Meier, a guard, and Taylor Evans, a tackle, have been the leaders of that line.
"Those kids were really the most vocal leaders," said Burnett, of the two seniors.
The line also includes junior center Ryan Garrity, senior guard Anthony James, senior tackle Mike Reigel and senior tightend Alex Evans.
The outstanding line play has been a huge factor in Broad Run's overall offensive success. The team's leading ball carrier is T.J. Peeler, the University of Pittsburgh-bound running back who has rushed for over 1,600 yards and scored 18 touchdowns.
Another great season has come from sophomore quarterback Connor Jessop, who has thrown 14 touchdowns and tossed just one interception. The line has magnificently protected Jessop, who has been sacked just once all year.
"I think he's a great player and he's behind that offensive line," said Burnett. "[That great protection] really takes the pressure off the quarterback. He's gotten more confident."
<b>BROAD RUN'S DEFENSE</b> has been exceptional as well, allowing an average of nine points per game. Several of the team's offensive line members also play on the defensive line as well. Solid seasons on the defensive side have come from senior lineman Frank Foreman, Meier, the team's leading tackler, and senior cornerbacks Joey Quigg and David Weaver.
"Our defense has been pretty dominant," said Burnett.
So many variables can influence a team's success in the postseason - injuries, a hot quarterback, weather conditions. Burnett said the key to his team's ability to make another strong postseason run will be about the fundamentals of the game.
"When you get into the playoffs, it's about executing and not making mistakes," said the coach.
Broad Run could possibly be without Peeler for its region playoff game on Nov. 20. He was penalized for two celebration penalties following Broad Run scoring plays against Potomac Falls. Broad Run has appealed the ruling that would force Peeler to sit out a postseason game. Burnett believes the calls –which involved chest-bumping, one of which took place on the Broad Run sideline – were excessive and unfair to Peeler. The coach said video tape will be used to help support Broad Run's appeal.
"We feel pretty hopeful the video tape shows those calls were not proper," said Burnett. "It's one of those things where you're really grateful for technology."
The coach said the entire excessive penalty controversy is not fair to Peeler.
"He's a great kid and I just think it's a shame the way it [falsely reflects on him]," said Burnett.