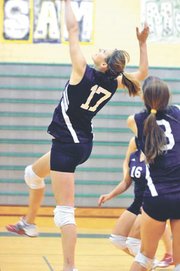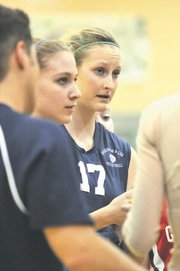 Mary Swan was confused and it showed. Then again, that will happen when one is learning a new sport with new teammates at a new school.
After moving to Arlington, Swan got involved at her new school — Washington-Lee — by trying out for the volleyball team. Her experience with the sport was limited to fun in gym class, but with the support of friends, she decided to give it a shot.
"I didn't think I was going to make the team," she said.
Swan made the team. Shortly after, she received a crash course at the team's first scrimmage. The slender 6-footer looked the part. But when it came to knowledge of the sport, the senior was starting fresh.
"Our first scrimmage [in late August], she didn't even know any of the rules, so she had to sit there and try to figure out what's going on," Washington-Lee head coach Rebecca Baltare said. "First year [of] volleyball is pretty overwhelming, especially at the varsity level. … She was just lost."
Two months later, Swan still doesn't have it all down. But the middle blocker's improvement was on display Oct. 28, when her 10 kills helped the Generals hand Yorktown its first National District loss since 2007.
"I still don't think I have everything right," Swan said. "I just kind of go with what everybody else does."
"What everybody else does" has worked well of late for Washington-Lee. The Generals have won four of their last five matches, including Monday's 3-0 victory over Wakefield in the quarterfinals of the National District Tournament. Washington-Lee (7-11) travels to take on Yorktown (13-6) at 7 p.m. today in the semifinals.
Swan and fellow Generals middle blocker Aliya Winker, who finished with 13 kills, helped Washington-Lee beat Yorktown to close the regular season. The Generals lost the first game and trailed in game two when Yorktown's Elyse Bush, the two-time district Player of the Year, tore the anterior cruciate ligament in her left knee and was forced to leave the match. Washington-Lee won games two and three before capturing the match in five.
"From day one our girls have said, 'When is our Yorktown game? When is our Yorktown game?'" Baltare said after the Oct. 28 match. "We've been looking forward to this all season."
Swan's father is a member of the U.S. Army. The family moved from Fort Monroe in Hampton to Fort Myer in Arlington prior to the school year. Baltare said an assistant coach told her about Swan moving to the area. Baltare said Swan's height and athleticism caught her attention during pre-tryout clinics, and the senior did enough to earn a spot on the varsity roster.
"We were shocked that she had never played before as a senior," Baltare said. "We thought about it and were like, 'Well, she's never played before but she's got great height, she's athletic [and] she's very coachable,' so we thought we'd take the chance on that one."
The decision has paid off, thanks in part to Swan's teammates. The 5-foot-11 Winker, a second-team all-district selection, has been a mentor in the middle, helping the newcomer Swan learn about a sport which is played nearly year-round by many of its top athletes.
"It's really cool to see … when I give her advice and she hits really well," Winker said. "It's really good to see her get it. … [It makes me] feel really good. It inspires me to be a coach."
Swan's main sport is softball, where she plays left field and third base. Baltare said Swan's experience playing a team sport has helped the Generals.
"She's had a lot of inspirational things to say to the team, a lot of motivational things to say," the coach said, "and she's fired up all the time."
Off the court, Swan said she enjoys reading. She said she's been accepted to the United States Military Academy at West Point, and wants a military career.
For now, Washington-Lee has a rematch with Yorktown. If Swan plays like she did in last week's meeting with the Patriots, the Generals could be on their way to another victory.
"I think she has improved throughout the season," Baltare said after the Oct. 28 match against Yorktown, "and tonight it really showed."