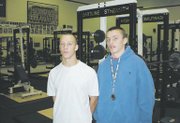 Robinson Secondary School running back Jared Velasquez loves to score points for his team, but when he's playing as a defensive back, nothing irks the talented two-way player more than giving up points.
"Whenever we give up points in a game, [the defense] just flips out," Velasquez said. "[When opponents score] more than 21 points, it just gets us really mad."
Fortunately for Velasquez, the last time that any team was able to best the Rams' defense for more than 21 points was during the Ram's 36-23 victory in the season opener on Sept. 3 against T.C. Williams.
Since then, only three opponents, Westfield, Chantilly and Lake Braddock, have reached the 21-point mark against Robinson.
"It's coincidental that we've allowed 21 points so many times," head coach Mark Bendorf said. "But our real goal is to hold each opponent scoreless."
The impressive stretch of defensive play is nothing new to the Robinson football program, Bendorf said.
"We've always taken pride in playing good defense here," he said. "There's a big expectation on the players to have a good understanding of the defensive play and blocking schemes. It's absolutely critical that our defensive players are students of the game."
To further focus the defense, Bendorf created a special motivational poster for the unit.
It's on the weight room wall, sandwiched between pictures of former Robinson greats and inspirational quotes and news clippings about the team's success that serve as a constant reminder of the school's winning tradition.
The poster lists the team's defensive goals for the season: allow less than 80 yards rushing and passing, recover one fumble and other defense-related achievements.
"We want to [improve on the goals] each week," linebacker Brian Laiti said. "That's our goal, to reach everything [the poster] says."
Achieving the lofty goals set by his coaches can be tough, Laiti said, but through vigorous game planning, it's possible to reach the benchmarks.
"Were just trying to figure out each opponent's game plan and their style of offense," said Laiti, who leads the team in tackles. "We work hard and our coaches study film with us every week to prepare for [other offenses]. That's what helps us reach our goals as a team."
On the opposite side of the ball, the Rams' offense has outscored opponents 287 to 131, showcasing just how competitive the team is this season.
Even with an impressive 8-1 record and the playoffs rapidly approaching, Bendorf said the defense still has room for improvement.
"We're still fairly young on defense," Bendorf said. "But we're playing hard, and the teams we've played are going to be in the playoffs and have good offenses."
Robinson travels to Concorde District Rival Centreville High School for its final regular season game on Friday, Nov. 6.