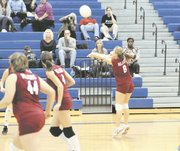 The Mount Vernon volleyball team ended its season Monday with a 3-0 (25-12, 25-13, 25-12) loss to Yorktown in the quarterfinals of the National District Tournament.
Senior Ericka Frank finished with two kills and an ace for the Majors.
Mount Vernon finished the season winless. Second-year head coach Julia Lashley said the season was a learning experience.
"It was a difficult year fluctuating between girls that really wanted to play and girls that left us for other things," Lashley said. "The numbers weren't consistent, so it was a learning experience. I love this game and it's hard to get these girls to love it as much as I do. I have a deep passion for it.
"The freshmen that are coming up this year were trained. We spent hours and hours in the gym with them. By their senior year it will be a different program. They won a lot of games. Our program is going in a different direction."
Lashley, who played collegiately at Murray State University, said getting athletes interested in playing volleyball in the offseason is a difficult task.
"Coming into this program where it has been down … it is very difficult to get people interested in playing and get the wealth of knowledge that all these [other] girls have because they play club season and my girls don't. It's a different area. That's the biggest challenge in getting them exposed to playing all the time."
Lashley listed juniors Alexis Gable, Veronica Bryant and Courtney Mills-Gomez as key players for next season. The coach also praised her seniors.
"My seniors were wonderful," Lashley said in a text message. "They came into practice always smiling, no matter how many suicides we ran, how many times we ran a drill, and win or lose they tried their best. They all had a unique piece that made our puzzle complete. Their hard work and determination will be missed. I wish them the best of luck in college and hope they continue to play."
<b>Mount Vernon Football To Host Wakefield</b>
The Mount Vernon football team lost to Yorktown 21-3 on Friday, falling to 0-9.
The Majors scored a season-high 32 points against Falls Church the previous week. Mount Vernon hosts 0-9 Wakefield at 7:30 p.m. Friday is the regular season finale for both teams.