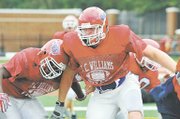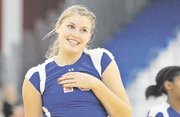 It's Thursday night and Jerry and Kathy Whitmire are attending the T.C. Williams volleyball match. Their daughter, Kate, plays middle blocker for the Titans. She's easy to spot. She's the 6-foot-tall girl standing by the net with a huge smile on her face.
Accompanying Jerry and Kathy is their son, Jay, a 6-foot-6, 285-pound football player who's also hard to miss. Jay, an offensive and defensive tackle for the Titans, finished practice not long ago and has transitioned to bleacher cheerleader for his sister.
The following night, it's Jay's turn to take the field. T.C. Williams has a big game at South County as the Titans try to make the playoffs for the first time since 1990. Kate is down on the sideline rooting for the Titans and Jerry and Kathy are in the stands.
Welcome to life with the Whitmires, where sports are not only entertainment, they're a way of life. Jay is a Division I prospect as a junior. Kate is an all-district performer as a freshman. Whether it's a game, practice or camp, Jay and Kate year-round are either competing or preparing to compete. Meanwhile, Kathy and Jerry are either helping get their kids where they need to be or watching them from the crowd.
Include academics and jobs and the Whitmires have a schedule which leaves time for little else.
Busy schedule
During the fall, step one is getting Jay and Kate to school — Jay to T.C. Williams and Kate to Minnie Howard. After work, Jerry, a financial advisor and Kathy, a medical worker at the Alexandria hospital, either pick up Kate or Jay from practice or watch one of them play in a game. On nights with no games, the family tries to eat dinner by 8 p.m. so Kate and Jay can start their homework. When there are games, luckily for the parents, there is rarely scheduling overlap with football and volleyball.
When fall season is over, Jay moves on to basketball and Kate starts with club volleyball. Winter season is when overlap starts, so Kathy and Jerry have a rotation in place. Last winter, Kate had three practices a week for her Virginia Elite club team. One parent would drive her to practice twice during the week and once the following week. Whoever wasn't driving Kate would either pick up Jay or watch him play in a basketball game. "It's kind of crazy," Kathy said. "It's not often we really get to eat together, and if we do it feels rushed. Sometimes it's a little rough."
Big from the start
It didn't take long for Kathy to realize Jay was going to be a football player.
How soon did she know?
"When he was born," she said. "He looked like a big football player from the moment he came out. … He was always big — way bigger than his friends."
Jay started playing football in the sixth grade for the NOVA youth league, which has no weight restrictions. His mother's prediction was coming true.
"He wasn't the type of kid to be going out to the park and doing lots of things," Kathy said. "He played a little soccer. But once that football hit and he put on those pads, he became very serious. … He didn't back off of all the hard work."
In the eighth grade, Jay played for the T.C. Williams junior varsity. Entering his freshman season, varsity head coach Dennis Randolph saw a 6-foot-2, 230-pound load of potential.
Randolph told Jay he could play college football. He had the size, he just needed to work. Randolph laid out a plan for success, and Jay started on the varsity as a freshman. Two years later, college coaches have taken notice.
Maryland, Duke, Virginia, North Carolina, Pittsburgh and Penn State have offered Jay a football scholarship.
Randolph said he told Jay to have fun with being recruited. "I told him … just sit back and enjoy the process," Randolph said. "There's a lot of interest in a 6-7, 290-pound kid who can run. … He's not a sloppy 290 pounds. He's very well put together. He's agile, strong and has great hands."
Jay isn't sure when he'll make a decision on which college to attend. He also said he enjoys playing on either side of the ball. Jay is tied for the team lead with six sacks and 11 tackles for loss.
"I'm having fun at both [positions]," he said. "It's been a lot more fun recently playing offense just because we've been doing pretty well."
With size come obstacles. Kathy said she has to use the Internet to find pants the right length for Jay and Kate. The family goes through seven gallons of skim milk per week.
Jay also plays lacrosse in the spring. He said he enjoys his busy sports life, but when he gets down time, Jay likes sitting on the couch and watching TV. Along with football, he enjoys watching "House," "Lie to Me" and "SpongeBob SquarePants."
Choosing Her Path
Kate has also played a wide range of sports — soccer, basketball, volleyball and swimming. She was even a premier Scottish dancer. But just before her freshman year, Kate decided to focus on volleyball. The decision surprised Kathy a little, but not from a sports standpoint.
"She had a [dance] competition [last summer] and she came off the stage — she did really well — and she just said to me, 'That's my last dance,'" Kathy said. "... She said I, 'I want to give it all to club volleyball.'"
The problem? Kathy had recently purchased Kate a new kilt, which Jerry said can cost around $400.
Kate said one of the main reasons she chose to focus on volleyball is she enjoyed the hard work it took to be successful. During her freshman season, her hard work showed through honorable mention all-district honors.
Kate said watching Jay succeed on the football field helped her realize the benefits of hard work. "I realized how fast your life can change when you're dedicated to a sport and you're good at a sport," Kate said. "If I didn't have Jay as my older brother, my life would be a lot different and maybe I would not have chosen volleyball or I would not have been so serious about it. He influenced me."
Kathy said Kate's success on the volleyball court has made Jay proud. Jerry said volleyball has helped give Kate her own identity.
"It gets a little old being somebody's little brother or little sister," said Jerry, the youngest of five siblings. "The volleyball was great because it helped — she's always been comfortable in her skin — but that gave her a chance to level the playing field."
On the court, Kate's signature is her ear-to-ear smile amidst the excitement of a kill or a block. T.C. Williams head volleyball coach Rhea Butler said Kate's enthusiasm is good for a team, but underneath that smile is an enforcer mentality that will continue to show as she gets older.
"You want at least one girl that's hungry enough to go in there and be like, 'I think you're cute, this is great and we look awesome, but I've come here to kick butt, take names and see you later.' Kate's going to be that person," Butler said. "She's the kind of person that will go, 'No. 11, she's a good hitter. I'm going to block her tonight.'
"That hungry attitude, that's hard to coach. It has to come [from] within."
Kate swims during the summer at the Army Navy Country Club in Arlington, but does so more for the social aspect than for competition. She likes going to the mall with friends and doing "girly stuff," like getting her nails done, but she wouldn't change her life of sports.
The Way They Like It
Traveling with Jay and Kate to camps or tournaments is considered vacation time for the Whitmires. Jay has had football camps in Pennsylvania and North Carolina. Kate has had a tournament in Florida.
But while their schedule is busy, their closeness as a family shows though. Jerry and Kathy help the football program as boosters. Jay and Kate cheer each other on during games. Kate helps the football program during team dinners. Family reunions are also big with the Whitmires.
Jay and Kate each have a GPA in the high 3s. Kathy and Jerry said they don't hold their children to a GPA standard. Instead, the parents focus on effort.
"One of the reasons why Kate and Jay are successful is mom and dad spend a lot of time and hard work getting them there," Randolph said. "They taught them right from wrong, taught them to study and be disciplined. … [Jay and Kate have] got a great base to work from. They know about study habits and if you want to be good you have to practice.
"Kathy and Jerry have done a great job with their kids. … They are a great role model for Jay and Kate."
While some additional relaxation time would be nice, the Whitmires enjoy their sports-filled life.
"That's about all we do," Kathy said with a laugh. "We're really boring."