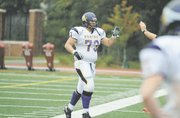 After months of talking with college recruiters, Lake Braddock Secondary School offensive lineman Khamrone Kolb has decided where to continue his football career.
On Oct. 19, Kolb verbally committed to Penn State University, adding his massive 6-foot-6-inch, 325-pound frame to the Nittany Lions' offensive line.
"I got my offer around March," Kolb said. "I've been talking [with Penn State] for quite some time."
Kolb, who is considered a three-star recruit by college recruiting resource www.rivals.com and the No. 15 prospect in Virginia according to www.VaPreps.com, is the fourth offensive line commit for the Nittany Lions this year.
Lake Braddock head coach James Poythress said that it's no surprise that a top program such as Penn State's pursued the Bruins' offensive lineman.
"He had a body and he did the work necessary to get prepared [for the next level]," Poythress said. "He's very coachable, he's a monster of a pass blocker and this is what happens when you put the time in and have the natural gifts [to succeed]."
Poythress, Lake Braddock's head coach for six years, said Kolb "can be as good as he wants to be."
"He can get much stronger and he's naturally quick," Poythress said. "If he adds another 100 pounds to his squat and bench, and with the coaching he'll get a Penn State, he can be a premier player. He's only started to become as dominating as he can be."
Kolb's Penn State commitment marks a special milestone for Poythress, who came to Lake Braddock from Gar-Field High School in Prince William County. Kolb is the first player to commit to a Division 1 program during Poythress' Lake Braddock tenure.
"Since I've been at Lake Braddock, I haven't had a single kid [go to a NCAA Division 1 school]," Poythress said. "It kind of puts it in perspective. At Gar-field, I had multiple Division 1 players, but none here until now."
Penn State wasn't the only school looking to bolster its football program with the hulking lineman.
Numerous Atlantic Coast Conference schools and other big programs, such as Illinois and Syracuse, recruited Kolb. Penn State's tradition, however, sealed the selection.
"On my unofficial visit during [the Nittany Lion's game against] Minnesota, there was just a sense of family and tradition there," he said. "I could tell right after I committed that I belonged there."
Other factors in Kolb's decision were Penn State's four-hour drive from his home and the chance to play for legendary coach Joe Paterno.
Kolb said that he tried to play it cool when he met his future head coach.
"I approached it like I was meeting any other coach," Kolb said. "I didn't want to feel like a little puppy. I just wanted to talk to him like he was a normal guy."
While he's eager to don the blue and white of Penn State, Kolb said he has unfinished business at Lake Braddock.
With the Bruins currently at 8-2 on the season and the Regional Playoffs looming, Kolb isn't letting his future college career get in the way of his duties as a Bruin.
"It hasn't hit me that I'm [a Nittany Lion] yet," he said. "I'm still focused on my senior season [with Lake Braddock]. I'm not even worried about college yet."