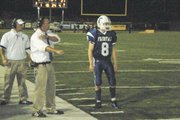 Following two consecutive losses to Madison and Stone Bridge high schools, Musa Condah and his fellow seniors on the Fairfax High football team decided enough was enough.
"About midway through the season, we were in a slump," said Condah, a senior defensive back. "We wanted to rededicate ourselves as a team. We knew we were much better than our record said we were."
After the Rebels loss to Stone Bridge, the team was mired in a 2-4 record that was far from the playoff expectations players set for themselves at the start of the season.
Fearing that the team would yet again finish with a sub-par record, Condah and his fellow seniors went to head coach Chris Haddock to ask for the unthinkable — tougher practices.
"At first, we were kind of nervous because we didn't want to seem disrespectful [to coach Haddock]," Condah said. "But we said, 'You know what, we have to tell him how we feel.'"
Haddock was far from displeased with his players' request. In fact, it was the season-changing moment he'd been waiting for.
"The week of the Stone Bridge game we had some sloppy practices. The seniors came to me concerned about the team's attitude and intensity of our practices," Haddock said. "It was that moment that every coach looks for, where the players want to take ownership of what's going on."
Since the seniors' meeting with Haddock, the Rebels, now 5-4, have been on a three-game winning streak, the longest win streak since the 2004 team closed its season with four consecutive victories.
"It's their team, not mine," Haddock said. "You've got to have great senior leadership and it has to matter more to the kids than it does to me."
The Rebels started their run with a 27-22 upset against South Lakes High School on Oct. 19. The team followed that victory with a 55-17 blowout of McLean High School and then a 21-0 shutout against Marshall High School on Oct. 30.
The re-energized locker room wasn't the only factor leading to the Rebels hot streak. Haddock said that the team has matured since their first games in September.
"We've played more focused, more disciplined and we've had better practices," Haddock said. "Those attributes lead to better games."
It also helped that the Rebels were able to curb their turnover issues that had plagued the squad earlier in the season.
"In the four-game stretch, we have had only four turnovers," Haddock said. "It's improved and that's something we spent a lot of time on. In high school sports, whoever makes the fewest mistakes tends to win.
The Rebels currently sit outside of the playoff, but with a victory against Thomas Jefferson High School on Nov. 6, and some help in the form of losses to other programs in the area, Fairfax might be playoff bound.
Perhaps what will affect the Rebels the most isn't contending for a playoff spot, but the lasting example the 2009 senior class set for the current juniors.
Junior running back Anton Burns said watching the seniors assume control of the locker room has inspired his class to follow in their footsteps.
"We're going to take over and start from the jump to let everyone know what we need to do to be successful," Burns said. "We're learning by example from the seniors this year and we're going to take that into next season."