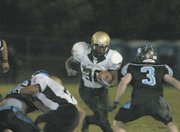 After enduring an uncharacteristic 1-4 slump to start the season, Westfield varsity football head coach Tom Verbanic decided that the only way to change future outcomes, was to change nothing at all.
"These kids said we're going to keep playing and we're going to do this," Verbanic said. "[The coaches] haven't changed our minds about the kids. Practice never got negative. We just got back to work and we told ourselves we'd get better."
The strategy worked and the talent and character Verbanic knew his team possessed, kicked in to start a four-game winning streak over Concorde District opponents.
"We talk a lot about character at our school," Verbanic said. "[Going on a winning streak] is character. I think it's awesome."
Westfield's streak, which started on Oct. 9, includes victories against Chantilly, Oakton and an overtime thriller against regional title contender Robinson.
"When we're in a slump we talk about the same things that we talk about when we're winning," Verbanic said. "We knew we were in a position where we had to come close to winning the Concorde District [if we wanted to make the playoffs]."
THE BULLDOGS continued their Concorde dominance on Oct. 30, with a convincing 24-7 victory over Centreville.
On a field muddied by pre-game intermittent rain, the Bulldogs turned in what Verbanic described as a "complete performance."
"We dominated on offense, defense and special teams," Verbanic told his team during a post-game talk. "It was a complete game from start to finish."
The Bulldogs' defense stole the show, forcing key turnovers and shutting out the Wildcats for three consecutive quarters.
Centreville's lone touchdown came during a 70-yard drive capped by a rushing touchdown by Wildcat quarterback Cam Walter.
After the touchdown, the Wildcats' were unable to consistently threaten the Bulldogs'end zone.
"[The defense] knew we were going to have to step up," senior linebacker Nick Grinups said. "Everyone on defense, the secondary, defensive line and linebackers just did a great job shutting Centreville down."
SINCE THEIR 1-4 losing streak, the Bulldogs defense has been able to make critical stops in close games. Senior defender Dylan Doty credited the squad's heart for its success.
"[The defense] may not beat people with our size, but we work well together and love playing as a unit," Doty said.
Verbanic also is confident in the defense's ability to make plays.
"[Our defense] is not real big, but we fly to the football," Verbanic said. "We have faith in our defense. We know what [the players] can accomplish."
Throughout the Centreville game, the Bulldogs battled a muddy and slippery field that hard-nosed junior tight end Hayden Ferrington said was an "old-school football field."
"It was awesome to just roll around in the mud," Ferrington said. "We were slipping and sliding around the field."
Ferrington finished the game with a 19-yard touchdown reception.
Junior running back Bryan Monticue, who scored the Bulldogs' first touchdown on a 30-yard rush, agreed with Ferrington.
"It was fun to play an old-school game," Monticue said. "It made me think about football back in the day when my father played. He said they played a lot of games in the mud."
Monticue's touchdown and 53 rushing yards were a team high among running backs in the game. Kendall Anderson and Hayden Ferrington each ran for 24 yards and quarterback Danny Fenyak added another 10 yards.
The Bulldogs' regular season ends Nov. 6 against final Concorde District opponent Herndon. If the Bulldogs win, they'll be the Concorde District Champions, but Verbanic said his team won't overlook an opponent because of the recent success.
"We told the kids, 'Don't forget what it feels like to be down in the dumps after a game.' " Verbanic said. "We want the kids to remember that feeling."