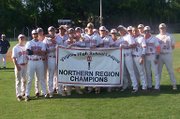 Tired of late-inning comebacks, extra-inning triumphs and one baseball game that was stretched over a two-day time frame, West Springfield arrived at Madison High School with two goals Saturday afternoon: get the bat on the ball and hit it hard.
Oh, and one more. No more of those close games, either.
In a postseason that has made buying Tums in bulk a relatively smart idea, West Springfield got an easy win for a change over rival Lake Braddock, pushing four runs across in the first inning before walking away with an 11-1 defeat of its chief rival.
"We were due," said Spartans coach John James, who helped bring the school its first region title since 1998 and seventh overall. "We've been held in check the past couple games, so I think with the law of averages, we were due to string some hits together."
Those hits were enough to improve West Springfield's record this season to 22-4. The Spartans have now scored 209 runs or roughly an average of eight per contest. But not enough of those runs have come lately, at least according to those associated with the program.
In the Patriot District final early last week, West Springfield played South County to a 3-3 tie on Monday night before the game was finally moved to Tuesday after more than five hours of baseball. Though West Springfield finally earned a 4-3 win, James surely would've settled for a run or two a bit earlier.
Then on Monday, May 25 in the Northern Region quarterfinals, West Springfield trailed Robinson by four runs entering the bottom of the sixth inning, but a late rally produced a 6-4 win. Finally, on Wednesday in the semifinal round, West Springfield outlasted Chantilly, 2-1, in nine innings thanks to Andy Stallings' game-winning double that scored Richie McMahon.
Now West Springfield will advance to the Virginia AAA state tournament, squaring off with Central Region runner-up Deep Run on Tuesday, while Lake Braddock (15-6) will travel to face Hanover, the Central Region's champion.
<b>IN THE FIRST</b> inning Saturday, second baseman Bubba Self and center fielder Bryn Renner were both hit on the elbow by breaking balls and third baseman Charlie Morgan moved them into scoring position with a bunt.
After right fielder Bobby Wahl reached on a fielder's choice that nabbed Self at the plate, designated hitter David Pyon followed with a sharply hit single up the middle, scoring Renner.
Catcher Tucker Tobin stepped to the plate next. Admittedly, Tobin has been thinking too much lately and has consequently struggled to hit anything solid — sort of like thinking about falling asleep at night; if done, it won't happen.
Without too much thought, Tobin simply looked for a pitch he could drive and found one from Lake Braddock starter Thomas Gramsch. The fastball Tobin hit headed toward the blue Alliance Bank sign in right field. Tobin thought it was a pop-up and maybe the runners would tag up.
The ball eventually eluded right fielder Michael Fanning's mitt and landed on the other side of the fence. Six batters into its first region title game since 1999, West Springfield had a four-run lead.
"I think everyone was more relaxed at the plate when we got off to the early lead, and everyone was swinging it pretty well," Tobin said. "Once we got that confidence, normally someone will come up with a big hit, and it seems like the rest of the team just feeds off of that."
Tobin was right.
<b>WEST SPRINGFIELD</b> added one more run in the bottom of the second inning before getting one in the fourth and exploding for five runs in the bottom of the sixth. In that frame, Self led off with a single and was brought around to score on Wahl's RBI-single.
Pyon's second hit of the game, a double, scored two more, while Tobin tacked on another single and another RBI.
While the offensive outburst might've bucked West Springfield's recent trend of not scoring as many runs as it would've like, the Spartans received yet another standout pitching performance from senior right-hander Mike Kent.
Kent went the distance, allowing one run over seven innings of work while scattering five hits. He walked five batters, struck out seven and unofficially threw 108 pitches, 70 for strikes.
"We were tired of just scoring two runs and getting by," said Kent, who was named the Northern Region tournament's Most Valuable Player. "We were tired of winning in the seventh and off of walkoffs."
"We didn't expect that type of score," said James. "We play Lake Braddock three or four times every year, and they're always close games. So that was what we were prepared for. They did a great job to get to this point. It was just our day, and they had a bad day. It happens."