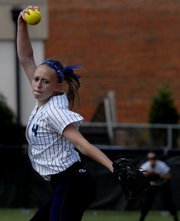 Thirteen total hits
A combined four runs.
Only 11 strikeouts between both teams.
Saturday's Northern Region softball final pitted two of the area's top pitchers, Centreville's Jess Ferrick and South County's Chelsey Dunham, against each other. The matchup was expected to be a pitcher's duel, with the game being decided on perhaps some late-innings heroics.
Half of that initial thought was true.
South County senior shortstop Meaghan Hunt blasted a two-run double off the center field fence in the top of the sixth inning, providing the Stallions a lead they would not relinquish in a 3-1 decision at Madison High School.
Hunt's clutch hit came a few innings after she stroked a solo home run over the right field fence, a shot that smacked into a second, tree-lined fence that signified the end of the school property. It was just her second home run of the season and the fifth of her career.
"I love the game of softball because of this right here," admitted Hunt afterwards, gesturing with her hands toward the playing field. "It's the intensity the teams come on the field with. It's just a fun and exciting game for me."
South County (26-1) will host the Central Region's second seed in the first round of the Virginia AAA state tournament on Tuesday. Centreville (20-6) will travel to the Central Region champion the same day.
<b>HUNT'S HOME RUN</b> in the top of the fourth inning gave the Stallions a 1-0 advantage, but Centreville answered shortly after in the bottom half of the frame. Kirsten Sepulveda led off with a single to center, and she advanced to second one batter later via Karen Johnson's sacrifice bunt.
Ferrick followed with a single up the middle to put runners at the corners with one out, and Sepulveda scored in the next at-bat when sophomore Cara Donovan grounded out to first. Dunham then squashed the rally by forcing Courtney Burke to line out to left field with the game knotted at one run apiece.
"That was a big home run in the fourth inning," South County coach Al Thompson said, moments after his team posed for a picture holding the Northern Region championship banner. "Usually, once we get one, the game's pretty much over. But not tonight. [Centreville] answered properly for a championship team. They didn't quit. They put one in to tie it up. Just what they needed. They made it a game, just what we wanted."
After a scoreless fifth, South County returned to the plate in the top of the sixth. Sarah Senseney began the frame by grounding out to the pitcher, a play that was followed some offense.
Lots of it.
<b>TAYLOR DILLOW</b> singled to center, and then reached second one batter later thanks to Stephanie Sbardella's grounder through the hole between third base and shortstop. Kayla Reisinger then hit one back to Ferrick, who threw to third and caught Dillow for the second out. Now with runners at first and second, Hunt strode to the plate.
A wild pitch that bounced just short of the catcher allowed both Sbardella and Reisinger to move up a base. One pitch later, Hunt kept her hot streak going with the shot to center that was a few feet away from being another round-tripper.
It didn't matter that Hunt was thrown out at home on the next at-bat, a Dunham single to center on which she tried to score. The damage had been done. It was now up to Dunham to keep her composure, throw strikes and record six outs.
"Chelsey is obviously a fabulous pitcher," Thompson said. "But like any other pitcher she can get hit. And she knows that, it doesn't fluster her. They hit us really well, McLean hit us really well, but we've got great defense. She bears down, tells them what to do, takes over as the team leader."
Centreville had two runners on in the home half of the sixth with one out, but Dunham ended the threat with a strikeout of Donovan and a flyout by Burke. And in the seventh, it was three up, three down for the Wildcats. Two line outs and a pop out sealed South County's first region title.