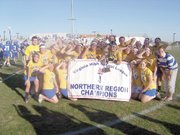 For members of the Robinson girls' lacrosse team, playing in big games has sort of become an expected rite of passage. Since a Northern Region champion was first crowned in 1993, Robinson had hoisted four trophies prior to last Wednesday's date with Chantilly, and the Rams reached the Virginia AAA state title game against Oakton in 2006.
But playing in big games against rival Chantilly has become something different. It's become a habit.
"It's one of those things where you play a team so many times that you learn so much about each other," said Robinson Coach Alison Neun. "Chantilly is an excellent team, and they have a lot of options."
What Neun learned is that her team tends to play well against the Chargers, a point proved by the Rams' 10-9 win last week at South County Secondary School. It was also Robinson's third big-game win over Chantilly in the past two years. In the past two Concorde District title games, Neun's team has staged late comebacks to steal a pair of victories from the heavily favored Chargers.
After facing a three-goal deficit with 8 minutes, 55 seconds left in the second half last Wednesday, Robinson rallied to tie the game at nine at the 4:07 mark. From there, freshman Katie McHugh scored her first and only goal of the game, pushing Robinson ahead to stay with a little more than a minute remaining.
McHugh, throughout the course of the season, has developed a friendship with senior Megan Dunleavy, who said that she sees a lot of herself in the youngster. During last year's district final, Dunleavy scored as the final buzzer sounded to produce an emotional 15-14 win. This year, it was McHugh's turn.
"I'm just trying to follow in her footsteps," McHugh said. "Last year, she scored the winning goal against Chantilly, and this year it was me."
Robinson improved to 16-3 this season with the win over Chantilly and will face the Northwest Region's third-seeded team on Saturday.
Since the Virginia High School League first recognized a lacrosse champion back in 2006, a Northern Region school has played for the title every single season. That means a rematch with Chantilly is much more likely.
"You know it's going be a battle," Neun said. "It's probably going to come down to the final minute."