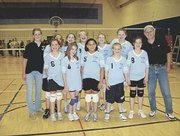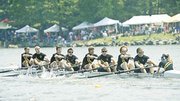 <b>Yearly Tradition</b>
On Saturday, May 9, the Sixth Annual Lees Corner versus Oak Hill basketball game was held at Chantilly High School. The game was a joint PTA fundraiser for future projects at the respective schools. Hundreds of students and their families attended to support the teams. The game started with a musical performance by the Oak Hill Band and then students sang the national anthem from both schools. The Lees Corner Band continued to play throughout the game, and at halftime each school's pep squad performed a cheer routine. Lees Corner won the game this year and both schools are ready for a showdown at next year's game.
<b>Year of the Dolphin</b>
On Wednesday, May 19, the Southwestern Youth Association Dolphins, a group of fourth-through-sixth-grade volleyball players, won its house championship to complete a 6-1 season. The playoffs were the best-of-three variety, with six teams total playing in the league. The first two matches went to 25 points, and the third match — and tie breaker, if necessary — would be played to 15 points. The Dolphins had a bye in the first round due to their record for the season and beat Team Strikes in two matches to reach the finals. In the final, a third match was necessary as the Dolphins won it, 15-11.
<b>Semifinal Appearance</b>
This past weekend, the Westfield crew team competed at the Scholastic Rowing Association's National Championship Regatta on Mercer Lake near Princeton, N.J. The men's and women's top varsity eight boats each advanced through two highly competitive heats to reach the semifinals. Westfield was one of only two area schools -- Yorktown was the other -- to have both its top men's and women's boats advance to the semifinals. Westfield boats also competed in the men's second varsity eight and the men's and the women's junior eights. Those competing in the men's top varsity boat were Paul Lorenzi, Craig Trumbull, Peter Schlatter, Peter Malm, Chip Mathieson, Perry Cox, Grant Bowden, Justin Aid and coxswain Ellie Goodman. Competing in the women's top varsity boat were Lauren Baker, Carrie Capps, Rachel Johnson, Virginia Ratcliff, Lindsay Toma, Darby Nelson, Stasia Schlatter, and Amy Gregory with Erin Friedlander as their coxswain. For more information about the Westfield Crew team, visit the team's Web site at www.westfieldcrew.org.
<b>Basketball Camps</b>
The Chantilly boys' basketball program will hold four consecutive weeks of basketball camps starting July 6 for boys ages 8 through 15. Cost is $150 and the sessions will be held at Chantilly High School. For more information, call head coach Jim Smith at 703-222-6306 or visit the Chantilly athletics Web site at www.chantillysports.org.
The Westfield Athletic Booster Club will hold two sessions of girls' basketball camp during June and July, with the first session running from June 22-26 (Elite Camp, ages 10-15) and July 6-10 (ages 8-15). Both camps will run from 8:30 a.m. until 2:30 p.m. Cost is $140. The staff will consist of head coach Pat Deegan and assistant coach Alice Andersen, as well as current college and high school players. For more information or for applications, contact coach Deegan at patrick.deegan@fcps.edu or 703-488-6363 (Ext. 7201).
The Westfield boys' basketball program will hold a series of four camps throughout the end of June and all of July. The first four-day session runs from June 29 through July 3; the second runs from July 13-17; the third from July 20-24; the fourth from July 27-31. For more information, contact Doug Ewell at 703-488-6406 or via email at douglas.ewell@fcps.edu.
The Centreville High School Athletic Boosters will sponsor the Third-Annual Girls' Basketball Specialty Camp from June 22-25. The times of the camp will be from 5 until 8:00 p.m., and the four-day camp is open to rising seventh-grade girls through rising 12th-grade girls. The cost is $100. Registration forms may be downloaded from the Centreville High School Web site at http://www.fcps.edu/CentrevilleHS/cvhs_old/activity/index.html.
The Centreville Booster Club is sponsoring a boys' basketball camp for rising third- through 10th-grade boys. The camp will take place at Centreville High School from June 22-26, and the camp's cost is $135 for the week. Camp will run from 8:30 a.m. until 2:30 p.m. Contact coach Drew Murphy at 703-802-5476 or by email at andrew.murphy@fcps.edu for more details, or got to www.fcps.edu/CentrevilleHS/boys_basketball_camp.html to download an application.
<b>Soccer Tryouts</b>
The Chantilly Youth Association rising boys' U-10 soccer team will hold tryouts for the fall 2009 season on Tuesday, June 2 and Tuesday, June 9 from 4-6:30 p.m. at the Word of Grace Sports Facility (13832 Redskins Drive, Herndon). CYA offers an internationally-known youth travel program that competes at the local, state, national and international levels, as players are professionally trained by Soccer Performance International. With questions, contact Gregory Roberts at g_roberts@verizon.net.
The ODFC Revolution, a rising girls' U-12 soccer team playing in WAGS, will hold tryouts on May 26 and May 28 from 6-8 p.m. and on June 2 and June 4 from 6-8 p.m. at Little River Elementary School in South Riding. The Revolution trains and plays year-round, both in the WAGS regular season and in tournaments across the region. The team includes players from Loudoun County, Western Fairfax County and Prince William County. Its coaches have USSF National D licenses, including a former U.S. National Team goalkeeper. To register, contact team manager Lori Campbell at 703-327-9332 or lsc6@verizon.net. For more information, visit the Revolution's Web site at http://www.thesoccersite.biz/odfcrevolution/.
ODFC's new rising boys' U-9 soccer team is seeking players and will hold open tryouts on Wednesday, May 27 from 6:30-8 p.m. at Little River Elementary School in South Riding, Sunday, May 31 from 4-5:30 p.m. at Freedom High School's practice field, Monday, June 1 from 6:30-8 p.m. at Little River and Wednesday, June 3 from 6:30-8 p.m. at Little River. The team will train and play year-round in the regular season and in tournaments across the region. To register for tryouts, call 703-327-9332 or email orchriscln@verizon.net. For more information, visit the ODFC Web site at http://www.olddominionfc.org/index.html.
The U-11 Chantilly Youth Association Scorpions (NCSL-Division 2) will hold open tryouts for the fall season on June 3 and 10 from 6-7:30 p.m. the at Word of Grace athletic fields. Interested players should contact Coach Baumgardner at cyascorpions@yahoo.com for more information.
Chantilly SC Blast (NCSL Division 4) is a rising U-14 team professionally trained by Roberto Parada. The Blast is currently looking for talented dedicated players born between Aug. 1, 1995 and July 31, 1996 to round out its fall roster. There will be open tryouts on June 2, 4, 9 and 11. Those premier players interested in exploring the possibility of working out with the Blast should contact Coach Edz by email at edz@crsoftwareinc.com or by phone at 703-395-6372. The Blast attends camps, competes in a minimum of three tournaments per year and trains inside during the winter. Additional information on the team can be found at www.leaguelineup.com/chantillyblast.