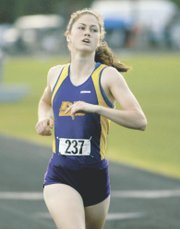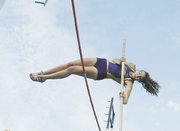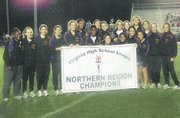 One-by-one they came, each wielding a hurdle or two from the track at Lake Braddock Secondary School on Friday, May 22, as preparation began for the 800-meter run. Back-and-forth those members of the Lake Braddock girls' outdoor track and field team went until every hurdle was stacked neatly in the far corner of the infield near the pole-vaulting area.
At one point during the cleanup process, Becca Sinichko's second-place long jump mark of 17 feet, 7 inches was announced over the stadium's public-address system, prompting the hurdle-carriers to stop working and let out a collective shout of celebration.
Though Sinichko scored 26 points, plenty of her teammates assisted with the heavy lifting too, as Lake Braddock won its seventh straight Northern Region title by scoring 105.50 points, which was 61 more than second-place Robinson. It was the first time since 2001 -- two years before the current streak started -- that the Bruins topped the century mark.
"No way I could've guessed that ahead of time," said coach Mike Mangan, whose team scored in every event except for the long jump and the 3,200. "We hit on all cylinders on the track."
While guessing the point-scorers on last year's Lake Braddock team had all the allure of predicting a sunrise, with Melanie Akwule (Georgia Tech), Chantal Ingram and Zoie Seay dominating most events, this year's contributions were a bit more widespread.
"This year's group doesn't set any limitations on themselves," said Mangan, whose team will compete next at this weekend's Virginia AAA state championship meet at Todd Stadium in Newport News. "They've just gone after it. We've had a couple nice additions that's for sure."
<b>MANGAN HAD</b> a message for senior Becca Shoemaker in between pole vault attempts, and Shoemaker wasn't sure whether he was serious or just messing around. As it turned out, Mangan wasn't but it did make for a pretty good laugh.
"It was really nerve-racking," Shoemaker said. "Mangan came up to me and said, 'If you get first, we'll win the meet. But if you don't, then we won't.' I was like, 'Oh.'"
Shoemaker did win, obtaining a personal-best mark of 10-03. She was one of four first-place finishers for Lake Braddock, including Sinichko's first-place 200 dash time of 25.08, Liana Epstein's 1,600 mark of 5:08.35 and a record-setting performance by the 4x800 relay team of Kelly Hagan, Casey Lardner, Taylor Moore and Epstein.
The foursome clocked a lightning-fast mark of 9:11.52, breaking both school and meet records. The time also ranks as the fastest time in the state this spring and the fifth-best mark in the entire country.
"Starting with Kelly [Hagan], our first leg, we just all built off of each other's excitement and it was fun to watch your teammates moving up, going into first," Moore said. "That just sort of snowballed. We really wanted it."
<b>SINICHKO HARDLY</b> did anything last Tuesday or Wednesday. Dealing with foot pain that was brought on by a set of orthotics which was needed to correct a previous problem with her arches, Sinichko's feet were sore and she needed some rest.
On Thursday and Friday, Sinichko said her feet were pain-free and it showed. In addition to winning the 200 dash and placing second in the long jump, Sinichko grabbed second in the 400 dash with a time of 55.78.
That, of course, follows the Patriot District championship meet on May 13-14 when Sinichko won the long jump and both the 200 and 400 dashes, further proving that she's peaking at the perfect time of the season.
"I'm definitely at the best point that I've ever been at," Sinichko said. "I thought that it would at least take another week, but I'm really excited. I don't think I've ever been so excited."
Sinichko's times are now second in Lake Braddock's record books to Cathron Birge in the 200 and 400, but it's another longtime Bruin who Mangan drew from last Friday as the typical, encased medals were passed around to celebrate the region title -- his predecessor, Bob Digby, who coached at Lake Braddock from 1985-2005.
"If they're handing out trophies, I'll take one," Mangan said, paraphrasing Digby. "We'll take all of 'em."
<b>IN OTHER ACTION,</b> Robinson's Joey Muzzio was third in the boys' high jump at 6-06, while Lake Braddock's Matt Hoogland finished second in the pole vault at 14-00. Robinson's Genamarie McCant won the 400 dash in 55.19, while her teammate, Kelly Kavanaugh was second in the 1,600 at 5:08.84. For more on the Robinson girls' team's second-place finish, visit www.connectionnewspapers.com.
Lake Braddock's girls' 4x400 relay team placed second behind Robinson with a time of 4:02.03, while Megan Bumgarner took third in the 100 hurdles (15.78) and second in the 300 hurdles (47.42). Lardner finished third in the 1,600 with a time of 5:09.50, and West Springfield's Paige Kvartunas took second in the 3,200 at 11:10.16.