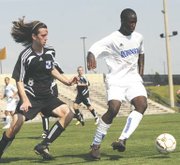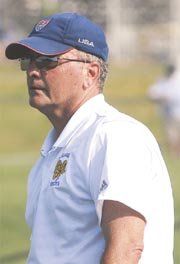 For the Robinson boys' soccer team Friday night, May 15, a Concorde District title-game victory over Centreville meant two things. First, nobody ever really objects to posing for the obligatory team picture behind a banner that reads "District Champions."
But the Rams' eventual 1-0 win also had helped their seeding for the Northern Region tournament. Because Centreville upset regular-season champion Westfield in the district semifinals, the Bulldogs could earn no less than the Concorde District's No. 2 seed in the region tournament.
Therefore, the loser of Friday's contest would be relegated to a No. 3 seed and forced to sacrifice a home playoff game.
"It's always great to win a district championship, especially in our district with the caliber of teams," said second-year coach Jac Cicala, whose team's only loss this season came to Centreville on March 30.
The improved seeding helped Robinson secure a home date with Langley on Tuesday night, and the Rams capitalized by defeated the Saxons, 6-5, in penalty kicks. In the quarterfinal round on Thursday, Robinson will now host Edison.
Although Robinson reached last spring's Virginia AAA state championship game with a dominant offense, this year's bunch has been much more defensive. Ten of the Rams' 12 wins have come via shutout, and seven of those 12 have been decided by one goal or penalty kicks.
<b>IN 15 CONTESTS</b> thus far, Robinson has allowed a region-best total of five goals. The only team to come close to such a small number has been South County (seven goals allowed), which opened its season with six straight shutouts.
Cicala, naturally, credited his talented back line of Jimmy Brewer, Matt Jordan, Kevin Murphy and Adriel Gaeta, along with goalkeeper Samir Badhr, for the Rams' success.
"We've had a stellar defense this year, and that's been huge for us," said Cicala, who actually shifted an extra player up top against Centreville in an effort to generate more offense. "If you look at our scores, we're not winning by huge margins. But our back four and our goalkeeper have just been so strong. That has kept us alive in a lot of games."
The defense's dominance has also coincided with the continued improvement of Alex Makumbi, a junior striker who scored the Rams' lone goal against Centreville. Cicala said that Makumbi was sorting out some soccer and academic issues during the first third of this season but has since fixed everything.
With a clear head, Makumbi has been terrific, helping Robinson to wins over Fairfax (4-0) and Oakton (1-0) in the district quarterfinals and semifinals. In the 60th minute against the Wildcats, Makumbi spotted a loose ball near the top of the box, sprinted toward it and put it past Centreville's goalkeeper.
"I'm glad that worked out not only for him but for us as well," Cicala said. "He's been able to focus a little bit better, and we've seen some better results."