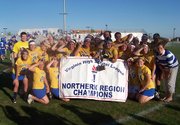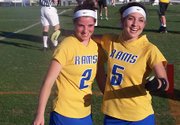 Katie McHugh had the best vantage point that any seventh-grader could have to watch her idol, Robinson senior Megan Dunleavy. McHugh attended the Robinson girls' lacrosse team's annual summer camp for several years and also served as the team manager prior to becoming a part of the program.
During Robinson's practices and games, McHugh would take breaks from filling water bottles and colleting loose balls long enough to watch Dunleavy and how the Virginia-bound midfielder went about her business.
At South County Secondary School on Wednesday night for the Northern Region title game against Chantilly, McHugh did a pretty spot-on imitation, scoring the game-winning goal to once again top the rival Chargers.
McHugh's goal with one minute remaining capped a four-goal comeback for Robinson and polished off a 10-9 win, giving the team its first region title since 2006 and fifth overall.
"I look up to Megan a lot," McHugh said. "On the field, she's been a tremendous help to my confidence. She always believes in me and helps me out a lot."
"She's an awesome player, and I just want to make sure she knows that and is constantly reminded of that," Dunleavy said. "She reminds me a lot of me when I was a freshman."
McHugh and Dunleavy posed for pictures at midfield to celebrate what has been a rather frequent occurrence, as the Rams have now upended Chantilly in a title game for the third time in the past two years. In last year's Concorde District final, Dunleavy scored with one second remaining for a 15-14 win. Twelve days ago, Robinson came back from a two-goal deficit to hand Chantilly a 9-8 loss in the 2009 district final.
<b>WEDNESDAY'S SHOWDOWN</b> bore a striking resemblance to that May 8 contest. In both, the teams were tied at five after the first 25 minutes. Once Chantilly had built a 9-6 lead on Liz Dunwoody's third goal of the game with 8 minutes, 55 seconds left, Neun challenged her team, saying that the rest of the game would determine what type of team the Rams really were.
Sam Barber converted a pass from Rachel Moody 19 seconds after Dunwoody's goal, and Tory Barron scored her second and third goals of the game to tie the score.
With open space, McHugh had a clear shot at the net. She thought about firing the ball and what would happen if she did. Some freshmen might've passed on the opportunity. McHugh did not. Afterward, McHugh went on to say that she had every bit of confidence that if the shot sailed wide, her teammates wouldn't look down on a freshman trying to take control in that situation.
"She's really been building her confidence throughout the season," said Dunleavy, who converted a spinning pass from Moody in the first half for her only goal of the game. "I think that showed tonight how she took the last shot."
McHugh's shot went to right of Chantilly goalkeeper Heather Meraw and snuck into the top right portion of the net. It was the only goal McHugh scored, but, according to head coach Alison Neun, that's all that was needed from the talented freshman.
"All year I've been talking to Katie about believing in herself," said Neun, whose team ran its record to 16-3 and will now face the Northwest Region's third-seeded team in the Virginia AAA state quarterfinals on Saturday, May 30. "I told her that she can't focus on being a 10-goal scorer. She has to score when we need it."
<b>MOODY STARTED</b> the scoring at 23:44 of the first half, spinning to her left to put the Rams ahead, 1-0. Moody scored again more than two minutes later and Tory Barron put Robinson ahead by three at 18:53, prompting a Chantilly timeout.
Dunwoody got Chantilly on the board at 17:08, beating Robinson goalkeeper Kelsey Zinck to her right. Chantilly's Katie Stillwell converted a one-timer from Brittany Griel on the Chargers' next possession before Moody struck again at 14:43.
Robinson would get only one more goal before the end of the half with Dunleavy's tally, while Griel, Stillwell and Dunwoody all connected for the Chargers.
Out of the break, Stillwell scored 14 seconds into the second half to put Chantilly on top for the first time all night, 6-5. But Abby Eastman tied the score at six with her goal at 24:04. Stillwell then connected twice and that, coupled with Dunwoody's third, gave Chantilly a 9-6 lead.
At that point, Neun was convinced that this was how her team drew it up.
"I told them at one point when we made the comeback, I guess you guys like to fight and come from behind," Neun said. "It's good to see that they finally started to relax."
<b>Scoring Summary</b>
<i>First Half</i>
Time Score (R-C) Player Assist
23:44 1-0 Rachel Moody (Rob.) None
21:28 2-0 Rachel Moody (Rob.) None
18:53 3-0 Tory Barron (Rob.) None
17:08 3-1 Liz Dunwoody (Chan.) None
15:57 3-2 Katie Stillwell (Chan.) Brittany Griel
14:43 4-2 Rachel Moody (Rob.) Courtney Coleman
12:10 4-3 Brittany Griel (Chan.) None
11:40 5-3 Megan Dunleavy (Rob.) Rachel Moody
8:31 5-4 Katie Stillwell (Chan.) Brittany Griel
4:33 5-5 Liz Dunwoody (Chan.) Katie Stillwell
<i>Second Half</i>
24:46 6-5 Katie Stillwell (Chan.) Liz Dunwoody
24:04 6-6 Abby Eastman (Rob.) None
19:26 6-7 Katie Stillwell (Chan.) Liz Dunwoody
10:51 6-8 Katie Stillwell (Chan.) Brittany Griel
8:55 6-9 Liz Dunwoody (Chan.) Katie Stillwell
8:36 7-9 Sam Barber (Rob.) Rachel Moody
5:42 8-9 Tory Barron (Rob.)
4:07 9-9 Tory Barron (Rob.)
1:00* 10-9 Katie McHugh (Rob.)
* Time is unofficial