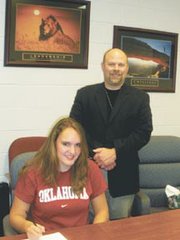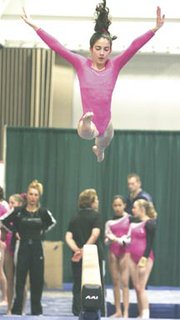 <b>Concorde Track Roundup</b>
Dan Grimm led his Centreville boys' outdoor track and field team to a second-place finish at last week's Concorde District championships by posting a pair of first-place times in the 800- and 1,600-meter runs at Westfield High School. He ran the second leg on Centreville's victorious 4x800 relay team of Tyler Bickley, Yazid Zouaimia and Mattson Heiner. As a team, Centreville totaled 101 points -- four less than first-place Oakton. Dominique Bacote stood out as well, capturing first place in the 300 hurdles.
Kaylin Newman and Julian Bellamy were the names to note for Westfield. Newman won the shot put and discus, as the girls' team finished third with 84 points. Herndon won it all with 134. Bellamy, meanwhile, won three events, including the 110 hurdles, long jump and triple jump. He also anchored the victorious 4x400 relay team of Taylor McGough, Jordan Lehman and Seung Mo Yang.
Kim Weinberg won three events for the fifth-place Chantilly girls' team. Weinberg claimed the top spot in the 100 hurdles and pole vault, and she also anchored the first-place 4x100 relay team of Genevieve Manley, Tiffany Mitchell and Casey Donovan. Wesley Sun took top honors in the pole vault for Chantilly's boys' team.
<b>Richmond Honored by Gatorade</b>
Centreville High School junior Jenna Richmond was named the 2008-09 Gatorade Virginia Girls' Soccer Player of the Year. She is now a finalist for the national award, to be announced in May. The award is based on outstanding athletic excellence, high academic achievement and exemplary character both on and off the field. Richmond is a member of the U.S. Soccer Federation Under-20 Women's National Team player pool and was a two-time youth All-American selection by the National Soccer Coaches Association of America. TopDrawerSoccer.com rates her as the top recruit for the class of 2010. At the time of her selection, Richmond had five goals and three assists for the Wildcats. Outside of soccer, Richmond has a 3.34 GPA and is a member of the Future Business Leaders of America. She has also been a part of Centreville's student government leadership council and was a volunteer youth soccer coach.
<b>Spring Jubilee Set</b>
Westfield High School will host the Virginia High School League Group AAA Spring Jubilee on June 2-6. The Spring Jubilee will determine the Virginia AAA state champions for baseball, softball, soccer, lacrosse and tennis. Baseball and softball semifinals will be Friday, June 5, and the finals will be Saturday, June 6. Singles and doubles tennis matches will be played at Jefferson District Park (7900 Lee Highway, Falls Church) on Thursday, June 4 through June 6. Girls' and boys' soccer semifinals will be June 5 with the finals on June 6. Girls' lacrosse semifinals are scheduled for Tuesday, June 2, and the boys' semifinals are scheduled for Wednesday, June 3. Both lacrosse finals will be June 6. Admission for the semifinals and finals will be $10.
<b>Salzano Goes National</b>
Centreville resident Lia Salzano, a sophomore at Paul VI, has qualified for the National Gymnastics competition, which was scheduled for May 14-18 in Seattle. Salzano placed in the top eight at the regional meet and is now one of seven gymnasts representing the Eastern Region. Salzano began gymnastics at the age of 3, and, in addition to working out over 20 hours a week at Capital Gymnastics in Burke, she also volunteers with the Special Olympics as a coach on weekends.
<b>Chargerball Anyone?</b>
The Chantilly Student Government Association will host Chargerball on Thursday, June 4. The event will be held in the school's gymnasium from 3 to 5 p.m. Sixteen teams will participate for the right to be called "Chargerball Champions." All students are invited to come watch the event. Admission is $2. Over the past years, this event has become increasingly popular, with hundreds of students attending as spectators.
<b>Virginia to Oklahoma</b>
Westfield senior Virginia Ratcliff has signed a National Letter of Intent to attend the University of Oklahoma on a full crew scholarship. Ratliff, who rows both port and starboard, also competed with Thompson Boat Center (TBC) in Washington, D.C. in the summer and fall of 2008. As a team, Westfield will compete at the Scholastic Rowing National Regatta in Lake Mercer, N.J. on May 22-23. In addition to crew, Ratliff is the senior athlete representative for the Potomac Valley Swimming Board of Directors. And during high school, she has been involved with the Fellowship of Christian Athletes, the National Art Honor Society and received the President's Gold and Bronze medals for over 400 hours of volunteer service in the community.
<b>Soccer Tryout</b>
The ODFC Revolution, a rising girls' U-12 soccer team playing in WAGS, will hold tryouts on May 26 and May 28 from 6-8 p.m. and on June 2 and June 4 from 6-8 p.m. at Little River Elementary School in South Riding. The Revolution trains and plays year-round, both in the WAGS regular season and in tournaments across the region. The team includes players from Loudoun County, Western Fairfax County and Prince William County. Its coaches have USSF National D licenses, including a former U.S. National Team goalkeeper. To register, contact team manager Lori Campbell at 703-327-9332 or lsc6@verizon.net. For more information, visit the Revolution's Web site at http://www.thesoccersite.biz/odfcrevolution/.