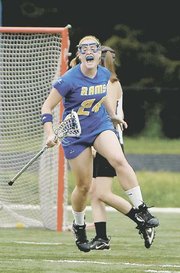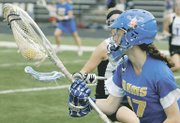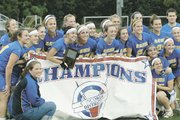 Kelsey Zinck had the ball in the netting of her oversized goalie stick for what seemed like an eternity during the final three minutes of the Concorde District girls' lacrosse final on May 8 against Chantilly. Her team was trailing by a goal and Zinck was without options, waving her stick in the air like a fisherman at an empty pond.
First, Zinck thought she had an open teammate streaking to the left. Nope. Quick defense. After a few steps to her right, she stopped to pass and again the opportunity closed faster than she thought. Finally, Zinck saw Sam Barber working her way to the middle of the field about 35 yards away.
Zinck, still not panicking, sent a pass sailing that her teammate was able to corral. A few tic-tac-toe passes later, Barber finished the rush for Robinson, scoring with 2 minutes, 21 seconds left.
Barber's tying marker set up the game-winning goal for Rachel Moody, who spun twice and beat Chantilly's Lisa Comerford for her second tally of the game to give the Rams a 9-8 win. In all, Robinson scored three answered goals to walk away victorious.
"It was nerve-racking, but I've been working on having the ball in my stick so I knew I needed to create just like my coach taught me," said Zinck, who also recorded 14 saves in the win. "I saw Sam post up in the middle, and I used all my energy to throw it out to her. I figured there was nothing to lose."
<b>WITH THE VICTORY,</b> Robinson claimed the Concorde's top seed in this week's Northern Region tournament, which Zinck and Co. parlayed into a 20-8 win over Stone Bridge on Tuesday night. The Rams will now host South County in the region quarterfinals on Thursday.
According to fifth-year coach Alison Neun, Robinson's late-game composure was nonexistent during the first meeting this season between these two teams, which resulted in a 12-5 for Chantilly on April 4. All last week, Neun and her team studied film of that game, picking out mistakes that none of them had ever made before and haven't made since.
"These girls have wanted this so bad, and they really regretted how they played against [Chantilly] the first time," said Neun, whose squad improved to 12-3 this spring with the Stone Bridge win. "We watched film and learned that we had improved a lot since the first time we saw them."
The solutions that Robinson found couldn't have come at a more convenient time, as the Rams have now developed quite the playoff rivalry with the Chargers. In last year's title game, Megan Dunleavy scored with one second remaining to deliver the upset, ruining yet another undefeated season for Chantilly.
This spring, Dunleavy needed to only score once as seven different Rams contributed goals, including tallies from Sarah Moody, Katie McHugh, Abby Eastman, Tory Barron (2), Barber and Rachel Moody (2).
"We knew it was going to be a tough game, but we learned from our mistakes big time and came out here ready to play," Rachel Moody said. "We're a calm team, and we know when we have to take a deep breath."