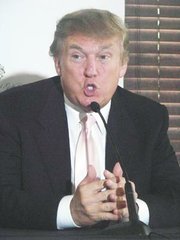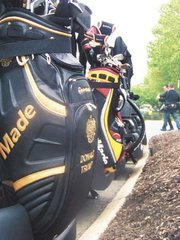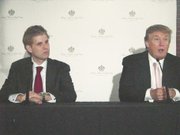 As luck would have it, the same thing that haunts every one of his current and soon-to-be members was the same thing that led Donald Trump to his latest acquisition.
Situated along a near-three-mile stretch of the Potomac River, Trump pounced on Lowes Island Golf Club in Sterling, purchasing the private club back on Friday, Feb. 14. And last Thursday, Trump returned to close on the property.
Early in the afternoon, with his Taylor Made golf clubs aboard a golf cart outside the soon-to-be-remodeled clubhouse, Trump detailed his plans for Trump National Golf Club, Washington D.C., which includes an extensive renovation plan set to begin within the next 90 days.
"There really is no course in this area that can compare to what we are going to be doing at this location," said Trump, flanked by his son, Eric F. Trump, a Georgetown University graduate and the executive vice president of development and acquisitions for the Trump Organization.
Eric Trump was responsible for bring the club to his father's attention, showing him a Google Image map of the location about six months ago. From there, the pair estimates they made between four and six visits to check on the property.
"When Eric showed me the picture, I called it a 'Google alert,'" Trump joked.
Indeed, Trump's latest acquisition will fit nicely into the rest of his bag, which includes top-ranked private courses in California and Florida. Trump also owns a course in the Grenadines and is currently developing another in Scotland -- a billion -- dollar proposition that will be the largest golf and mixed-use development in Europe when completed.
<b>THE FIRST</b> question that Trump faced last Thursday dealt with Congressional Country Club in Bethesda -- the host course for the Tiger Woods-hosted AT&T National Tournament -- and whether he was trying to lure the tournament to Northern Virginia.
"My priority is to build a great course," Trump said. "Tournaments come to me. We won't be going to tournaments."
While construction from scratch won't be needed, Trump plans on both lengthening and widening the two existing courses that are situated on more than 800 acres of land. He also wants to expand the clubhouse and widen the driving range. Ideally, Trump would even like to construct a 100-foot waterfall to encapsulate the 18th green.
Overseeing the on-course renovations will be Tom Fazio, a renowned golf course designer who worked on Trump's Scotland project and was a three-time recipient of The Golf Digest's award for Best Modern Day Golf Course Architect. Fazio originally designed Lowes Island.
In addition to the golf-related changes, Trump also plans on expanding the club's number of tennis courts from six to 12, with four or five indoor courts as well. Trump also plans on upgrading the club's swimming facilities, and the architectural and land-planning firm, Devereaux and Associates, will also be installing a ballroom.
<b>WEARING A BLACK SUIT,</b> a white dress shirt and a cream-colored tie, Trump was cordial, posing for pictures and making small talk with those gathered around miniature pork barbecue and crab cake sandwiches on the second floor of the facility.
During his remarks, Trump flashed his trademark sense of humor, firing off lines about the economy and even inviting President Obama to play a round of golf on his new track.
"Washington D.C. is hot," Trump said. "They own the banks, they own the car companies."
On Obama: "I'm a big fan of his, and I would love for him to come out and play," Trump said. "It's the best course. It's very close to the White House."
He also said that he paid cash for the property.
"The banks don't have any money, right?" Trump said.
<b>MEMBERSHIP</b> won't be cheap at the club, as Trump promised that the existing rates of $75,000 to join and a $600-a-month fee will be going up "substantially," pointing out that his course in Florida costs $450,000 to join.
Already membership has increased, Trump said, although he admitted that could be in relation to the expected price hike.
Trump promises that within the next two years his newest acquisition will become one of the country's finest clubs, and the idea of its Washington, D.C.-area location was at the forefront of both father and son's thinking from the outset.
"I absolutely love Washington. I'm a big proponent of the city, and I spent four of the best years of my life here," Eric Trump said. "I knew this area very well and obviously wanted to be back here."
"I believe in taking something and making it great," Donald Trump said. "There's nothing in Washington I could ever find that would top this. I know all of the courses. There's no piece of land like this and none on the river. There's nothing like this."