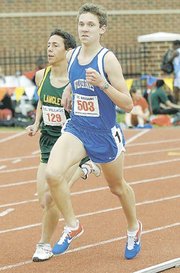 It was cold and rainy when the starting gun sounded and Mount Vernon junior Clive Cameron took off in a preliminary heat of the 110-meter hurdles during last Saturday's T.C. Invitational. Cameron glided down the track, having no trouble clearing any hurdles, en route to an easy win and qualification in the finals later that day.
Too easy, if you ask his coach, Chris Loline, who approached his star runner holding up a stopwatch that had Cameron notching a time around 15.6 seconds, considerably slower than his normal times.
"This race and you," Loline said "it's like a fine oiled machine if you use it correctly."
The crux of the problem was Cameron hadn't warmed up properly, a dilemma that faced many athletes that took part in the 44-team, 800-participant event Saturday. With so many events and so many people, it's only human nature for a teenager to get caught up in all the faces and places.
Cameron has already qualified for the state championships in both the 110-meter hurdles and the 300-meter dash, but if every race is like the 15.7 time he officially clocked in the prelims, chances are he won't be setting the state on fire any time soon.
"You've got kids right now who think they can hang out in the stands and step on the track and all of a sudden there's gonna be some immaculate conception, that it's all of a sudden gonna happen for them," said Loline. "You can almost sense the fact that they didn't get their body prepared before stepping on the track just from knowing your athlete. I could tell [Clive] just didn't properly prepare for the race today."
Loline said the warm up conundrum is the very reason why he shows up for big meets extra early. Most of his athletes lose track of time as they mingle with friends from other schools, and as a result "they just race cold turkey", which at best, decreases the chance of recording a fast time, and at worst, can result in injury.
<b>THAT BEING SAID</b>, a slow race or a poor time, especially in a prelim, can quickly be reversed. After his less-than-great time left him in fifth place in the finals of the 110-meter hurdles, Cameron improved his time by 0.6 seconds and placed third in the finals. Then with his body clicking on all cylinders, he followed that up with a first-place finish in the 300-meter hurdles, effectively eliminating any memories of that lackluster race in the morning.
His speedy recovery was a big reason the Mount Vernon boys' team came in fourth place overall, the best finish of any area school besides T.C. Williams. Senior Shaquille Thomas joined Cameron in the winner's circle, taking first place in the triple jump. But Cameron wasn't the only area athlete to use a race as a de facto warm up.
West Potomac senior Heba Sekander ran her prelim race for the girls'100-meter hurdles and then promptly jogged over to the sand pit and scored a personal record of 31.75 feet in the triple jump, good for ninth place in the overall competition.
"When they're doing multiple events, I don't want them doing too much warming up because you get a lot of your warm up doing the events," said West Potomac assistant coach Joshua Rodriguez. "She did hurdles and I figured she was ready to go right out into the jump."
<b>OTHER STRONG SHOWINGS</b> came from Mount Vernon's Candace McCray, who took second in the 400-meter dash and followed that up with a second-place showing in the 4x100-meter relay alongside teammates Miranda Haynes, Shaniece Stevenson, and Amira Hill. Hill also took second place in the 300-meter hurdles.
For West Potomac, it was all about the pole vault. Seniors Kaitlyn Anderson and Meghan Connor swept the top two positions in the girls' pole vault despite the wet weather. The Wolverine girls' 4x100 relay consisting of juniors Kiara Artis, Ashleigh White, and Nishma Brown and freshman Dale Lescher finished just behind Mount Vernon in third place.
On the boys' side, senior Jon McCants continued to show why he's one of the fastest competitors in the Northern Region, taking first place by close to 0.5 seconds in the 400-meter dash.
Because in the end, what makes it hard to focus at a large meet — all the people in attendance — is what makes winning that much more sweet.
"I loved [big meets] when I was jumping," said Rodriguez, a 2006 West Potomac grad. "You get to stand out and show everybody around what you're capable of."