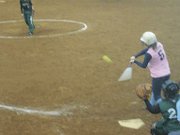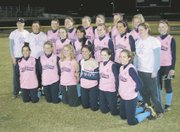 Senior pitcher and Yorktown's clean-up hitter, Annie Blaine, was going through the plethora of pitches she had just used to one-hit visiting Wakefield in a 15-0, six-inning rout Friday night when it occurred to her she may be giving away some privileged information.
As she mentioned the five pitches in her arsenal — fastball, curveball, change-up, rise, and drop — teammate Kristen Soroka broke in before her friend could finish what she was saying.
"Shhh, don't tell everyone," Soroka said jokingly. "Don't tell them your secrets."
That Soroka, Blaine and the rest of this year's Yorktown softball team are protective of their tools to success is understandable, especially given the goals these Patriots have down the line.
<b>A YEAR REMOVED</b> from winning the most games in school history (19) and two years after scoring a Virginia High School League record 245 runs in 2007, Yorktown has its eyes on replicating that success in the postseason, something that has eluded them of late.
The Patriots lost to Westfield and Stone Bridge, respectively, in the first-round of the Northern Region tournament the past two seasons. Yorktown shared the regular-season district title with Mount Vernon in 2007 and won both the district regular season and tournament titles last season.
And though they are favorites to win the National District yet again this year, the Patriots now know half the battle will be about staying sharp.
"The National District isn't the same level that we're used to playing with," said Soroka, alluding to the more competitive club circuit that many of the girls compete in during the summer. "And then we go to the region [level] and there's a lot more people and a higher skill level. So that's the most difficult part, is to play these teams, but also prepare for the region."
Yorktown's quest has gotten off to a fast start, with four-straight wins to begin the season, including mercy rule victories over Arlington rivals Wakefield and Washington-Lee (15-0) last week. In both games, the Patriots had more than 15 hits spread throughout the entire lineup and cruised behind dominating pitching performances.
<b>BLAINE'S ONE-HIT</b>, eight-strikeout domination of Wakefield came just two days after the team's ace and last year's National District Pitcher of the Year, senior Hannah Bauman, threw her own one-hitter against W-L. Bauman followed that up Monday night by throwing another one-hitter to go along with 13 strikeouts in a 4-0 win over Edison.
"It just shows how deep our skill level goes," said Blaine even after Yorktown lost 2008 National District Player of the Year Bree Hanafin (Baylor) and 2008 all-district first-team selection Laura Wilson (George Washington) to the college softball ranks. In addition to Bauman, Yorktown also returns three other first-team selections (Soroka, senior Gretchen Wilson, and Stephanie Severn) from last season.
According to Soroka, the team's shortstop, sometimes the difficult part of having two dominant starting pitchers is paying attention in the field. With so many strikeouts, there just isn't enough action to stay focused all the time.
But with nine total seniors, most of whom have been on varsity since they were freshman, first-year head coach Julie Fetter knows focus at the end of the season is most important for a group whose lofty regular-season accomplishments have never merited such quick exits once the regional tournament comes around.
"That's the hardest part of being the coach of this team," said Fetter. "You have to keep them motivated in practices and unfortunately, a lot of the game situations become practices for us."
To that end, Yorktown has scheduled late-season contests with Arlington rival and WCAC juggernaut O'Connell and last year's regional finalist Herndon before the district tournament begins in May.
Until then, Blaine and company will continue to hoard their tricks of the trade. When asked if she would reveal which of her five pitches she throws when she's in trouble, Blaine's answer corresponded with Suroka's suggestion.
"Not if you're going to tell everyone," she said through laughter. But with their recent play, the Patriots' secret may already be out.