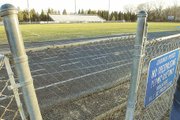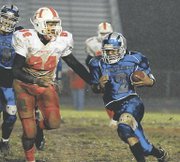 Junior wide receiver Shawn Lee would love for some highlight-reel catch or a game-winning touchdown to be his lasting memory of West Potomac's Jeffrey Dietze Stadium field. Instead, the first thought that comes to his mind is a game against Hayfield last fall, where using the words field and grass would have been a gross inaccuracy.
"The field was completely mud," recalled Lee. "You could barely run."
It hasn't gotten much better this spring, where just two weeks ago during West Potomac's annual lacrosse showdown with Mount Vernon, a few players tripped en route to the sidelines because there was so much uneven terrain in their way.
In the next few weeks, though, those associated with West Potomac athletics hope those horror stories are a thing of the past. Beginning this Friday with a fund-raising event at Mount Vernon Country Club, the department of student activities and the West Potomac booster club are spearheading a joint campaign to raise $27,000 to install Bermuda grass in the stadium for next fall.
It is one of several fund-raising efforts that director of student activities Aaron Helmick hopes will give West Potomac's athletes a field they can be proud of.
"We're playing on a dirt pile right now," said Helmick. "Our kids feel they deserve what other schools have, so I'm trying to get that for them. I don't think our kids have pride in a contest that's being played on that stadium field."
<b>IN REALITY</b>, the current field could have been much worse. In the spring of 2006, West Potomac parent Tom Swinson had seen enough soccer and lacrosse games ruined by the awful playing conditions that he and a group of dedicated volunteers decided to take matters into their own hands.
That season had been a particularly dry one and the field had transformed from a playing surface to a "dust bowl," according to Swinson. So a group of parents formed a committee and went to West Potomac principal Rima Vesiland asking what they could do.
They came to the decision that the booster club would essentially adopt the field, taking away maintenance duties from the athletic department. In order to do this legally, Swinson, a retired member of the Air Force and part-time physical therapist, and fellow booster club parent Paul Cooksey, applied to become Fairfax County employees.
With the necessary paperwork done, Swinson was paid $100 a year by the county and in return, he had access to the field and county-owned equipment with liability concerns out of the way.
After aerating the field to help with drainage, Swinson, Cooksey, and a few other dedicated parents began having de facto mowing parties every Saturday morning, where six to eight of them would bring their own personal hand mowers and landscaping equipment out to the field to help keep it in decent shape.
"We quickly realized we were dealing with a situation that was going to be perpetual because it constantly gets beat down and needs to be re-seeded," said Swinson. "It was just a sub-standard playing surface."
<b>THAT'S WHEN</b> Swinson and his gang of impromptu maintenance workers decided something truly drastic needed to be done. First and foremost was that no matter what type of grass the field had, it needed to properly drain. So with the help of the booster club, the school installed new sprinkler and irrigation systems last year.
Fairfax County contributed a new control system for the sprinklers, but refused to help with the cost of a proper irrigation system or putting in a new field for the stadium.
The problem with the current field, made of cool weather grass, is that its main growing period is during the spring. The growth slows once summer hits and as fall arrives the grass reaches its maximum breadth — just in time for the football team to make all the growing for naught.
"Essentially, it has no way to re-generate itself at that point," said Swinson.
When the boosters first looked into a new field, the price of a synthetic turf surface was too expensive and even Bermuda grass seemed a little out of their price range. But the recent downturn in the economy has lowered the price of installing new grass from $36,000 to the current $27,000 that Helmick expects it to cost.
That includes $10,000 for a new, professional maintenance team to come in and oversee the fertilization during the initial growing period this summer. Helmick said the plan is once the spring sports season finishes, crews will come in and start leveling off low spots, with grass beginning to grow within 30 days.
He expects everything to be ready by the time the West Potomac football team hits the field for its home opener, the battle for Richmond Highway supremacy against Mount Vernon on Sept. 3.
It will be a welcome sight for Swinson, who is still officially a county employee collecting his stipend. He estimates spending about 20 hours a week since that spring of 2006 working the West Potomac field. At one point, he and the other volunteers had it all added up and realized the man-hours all of them had put in reached the thousands.
"It's really been a long process," he said. "I kind of lit the fire, but it involved so many people going above and beyond what a parent volunteer ordinarily does."