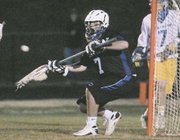 His nickname suits him well. Derek Kegerreis, the Chantilly boys' lacrosse team's brick wall of a goalkeeper, looks like exactly that -- your prototypical goalie. If there was ever an "Animal House" lookalike contest, Kegerreis, though in much better shape, could probably earn some extra cash as John Belushi's "Bluto."
But luckily for Chantilly, Kegerreis hardly resembles that raggedy Delta Tau Chi fraternity; well, maybe except for his nickname: "Keg."
Kegerreis is one of only a few holdovers from last year's Virginia AAA state championship team, which won the program's first-ever state crown by topping Oakton, 12-5, to complete a perfect 20-0 season. It also claimed Concorde District and Northern Region titles for the first time
"Our team is young," Chargers coach Kevin Broderick said. "We graduated 16 seniors last year and most of them from the offense. So we're a work in progress."
"I can't say we have the same talent as last year," Kegerreis added. "But I think we have as much heart as last year's group, and I think that's what's gonna take us far this year."
That and its standout netminder, who was a first team All-Northern Region and All-Concorde District pick last year while making 180 saves during the course of the season. When the Lynchburg-bound senior was in the cage, Chantilly allowed an average of 3.8 goals per game.
<b>IF THE CHARGERS</b> needed a reminder that last year is no more, it happened on Monday night at Robinson Secondary School for the team's Concorde District opener. After the first 24 minutes, Chantilly had managed only one shot -- a Mike Turpyn goal -- and trailed, 4-1.
Nobody panicked.
Kegerreis called his team together and calmly pointed to a few things that the Chargers could work on, a few things they could be doing better. And in the second half, Chantilly scored four unanswered goals, finally taking the win on Joe Marson's game-winner with 3 minutes, 23 seconds left in the third overtime period.
"I beared down when we were on our way back, and I knew that I couldn't let one in," said Kegerreis, whose Chargers 3-0 this season before an away game at Herndon on Friday. "As a senior and as a captain, I had to step up and get our guys going. We kept fighting."
"He plays the best against big teams," Broderick said of his goalie.
During the rally, sophomore Devon Westerman scored twice, senior Stevie Gombos added a goal and junior Chris McNally tied the score at five with his marker at 1:36 of the fourth period.
<b>AT WESTFIELD,</b> first-year coach Brian Dilley takes over a program that finished 10-7 last spring, reaching the Concorde District and Northern Region semifinals. Dilley loses first All-Region goalkeeper Ross Lavin -- among others -- from that group.
A collegiate lacrosse player at SUNY Cortland, Dilley has spent considerable time this spring implementing his own system but otherwise said that things have been going well.
"I think we're doing all right," said Dilley, whose team upset district stalwart Oakton on Tuesday night, 9-6. "I think we're doing well for learning a new system and just plugging away. It's kind trial and error, but it's pushing toward an eventual goal of how we want to play."
Dilley also emphasized that he expects his team to be strong defensively, with Evan Winfrey and Charlie Ohrnberger playing pivotal roles.
Centreville, behind top returner Brent Sikora, a senior middie who had 22 goals and 12 assists last spring, will try to improve upon its 2007 marks of 4-8 overall, 1-5 in district play. The Wildcats lost to Robinson in the district quarterfinals.
Senior middie Will Balberde (11 goals, 10 assists) also returns for third-year coach Jed Williams, as does junior attackman Chris Peltier, who totaled 14 goals and eight assists last spring. So far this season, Centreville is 1-2 and will host Robinson on Friday.