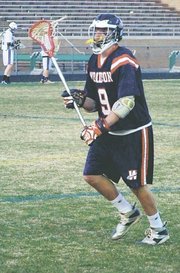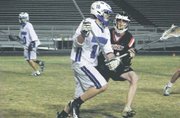 Jon FitzGerald has been operating for 22 years under the precept.
"You can't coach athleticism," said FitzGerald, the school's boys' lacrosse coach, who has won 11 district titles, four Northern Region crowns, three Virginia AAA state titles and 311 games during his career. "But you can try to recruit it."
Meaghan O'Leary, in her first year in charge of the girls' lacrosse program at W.T. Woodson, inherited a team built around the same philosophy.
Parallels are often drawn between lacrosse and football, sports that FitzGerald has helped coach at W.T. Woodson off and on throughout his career. Seven members of the boys' lacrosse team also play football, and six members of the girls' squad double as field hockey players.
While the boys' and girls' lacrosse games are different in the degree of physicality with which they're played, the stamina, agility and vision required for both are essential.
And whether it's been through football or field hockey, W.T. Woodson has had players with the necessary make-up, and, in the process, developed a reputation as one of the Northern Region's top lacrosse schools.
<b>THIS SPRING,</b> little figures to change as the W.T. Woodson boys' team returns a plethora of talented scorers from a group that went 6-1 against Liberty District opponents last spring, and the girls' team brings back last year's Northern Region's Defensive Player of the Year in senior Becca Geist.
On the boys' side, senior Paul Tunick and junior Davis Mayberry lead the attack, as the duo combined for 36 goals and 31 assists last spring. Meanwhile, senior John Gargiulo tied Tunick for the team-lead in goals among returners (21) and classmate Spencer Lahiff added 16 goals and 11 assists. In addition to a 12-7 win over South Lakes on Tuesday, W.T. Woodson topped Robinson last Tuesday, March 17 to start 2-0.
"We have a lot of chemistry going," said Tunick, who plans to play lacrosse at Mary Washington next spring. "Everyone's working together, and there's not one person who's doing his own thing."
On the girls' side, W.T. Woodson returns, along with Geist, senior captains Lauren King and Carrie Pritchard, while a pair of juniors, Emily Whitman and Rachael Obergon, should step into starring roles. O'Leary also praised the work of freshmen starters Elena Obergon and Leah Williamson. With an 18-1 win over South Lakes on Tuesday, the girls' team improved to 2-1.
"They set high standards for themselves," said O'Leary, an accomplished lacrosse player and an All-American during her senior season at Mary Washington in 2007. "They're really dedicated, which makes my job easy."
<b>A FEW</b> minutes away, the Fairfax girls' lacrosse program has not enjoyed such a lucrative tradition. The Rebels went 4-7 last spring and winless against Concorde District opponents. But Fairfax returns an impactful senior class, including Sarah Burson, Megan Honour and Courtney Raper.
Paul VI's boys' team is again poised to compete for the Washington Catholic Athletic Conference crown, after finishing 12-9 last spring and reaching the Virginia Independent Schools Athletic Association quarterfinals. Four 30-plus-goal scorers from that team return: attackman Danny Barcklow (32), middie Kevin Righi (30), middie Josh Brown (31) and attackman Christian Tiedge (34). Goalkeeper Matt Lindemann is also back after stopping 64 percent of the shots he faced last spring.
The Lady Panthers, at 7-11 in 2008, lose six seniors and all of their defensive starters but return captain Katherine DeSilva, who posted 18 goals and 15 assists last spring. DeSilva was also second on the team with 31 draw controls.