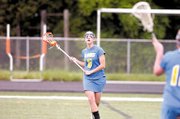 All along, they insisted that it wasn't planned. Sure, Virginia and Maryland, two rival lacrosse schools in the Atlantic Coast Conference, were the top choices of Robinson seniors Megan Dunleavy and Sam Barber, but the two best friends didn't think that they'd actually end up one day as bitter opponents.
"I remember sitting down with [Rams head coach Alison] Neun and telling her our top choices," said Dunleavy, whose offensive prowess has resulted in 18 goals this spring. "After it happened, we were both so excited for each other. We didn't really think about going to rival schools."
While the two best friends have diametrically opposite personalities — Dunleavy's the outgoing one, Barber the introvert -- they'll suit up next season, Dunleavy at Virginia and Barber at Maryland, at two of the country's top lacrosse programs.
Virginia has won the past three ACC titles and four of the past five. Maryland, which leads the all-time series, 31-17, has won nine NCAA championships. The Terps have been to the NCAA tournament 24 times, more than any other team in the country. Virginia is second at 21.
"I'm really excited for next year. Our friendship will definitely stay intact, even though we're at rival schools," Barber said. "They're both top ACC schools. You never know who's gonna win each year."
"We'll still remain close friends, but it will be cool to play against her," Dunleavy said.
<b>THE TWO</b> met through lacrosse back in the fifth grade. They played on a Braddock Road Youth Club team, which was coached by Barber's father. Middle school put the pair in class together and Dunleavy eventually made Robinson's varsity squad as a freshman, Barber joined her a year later as a sophomore.
Once established, the girls' divergent personalities began to shine through. Barber laughs at Dunleavy, who she says is always "the center of attention," and Dunleavy opines that Barber "definitely goes unnoticed for all of the work that she does."
Neun, Robinson's coach, has watched Dunleavy and Barber develop into two of the top performers on a team predicted to once again do some significant postseason damage.
In four games thus far, Barber has picked up 12 ground balls (second only to Dunleavy's 20) and added two goals and two assists. Dunleavy, meanwhile, has nine assists and 24 draw control to go with her impressive goal total.
"Sam has always been more of the defensive threat, and Megan is the attacking threat," said Neun, whose team beat Chantilly in the Concorde District title game last year. "They push each other in practice, but there's never any animosity there. It's always been a very positive relationship between the two of them."