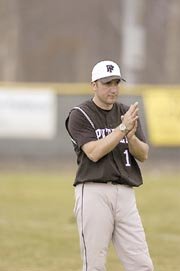 A year ago, Potomac Falls' bid to successfully defend its Dulles District baseball title fell just short as the Panthers lost to champion Broad Run in the district tournament finals. But overall 2008 was a good season for Potomac Falls, which finished with an impressive 17-8 overall record, earned a second place district standing during the regular season and qualified for the Region II playoffs. The Panthers' season ended with a region semifinals playoff loss to Brentsville (Nokesville).
Potomac Falls, while it did not capture the district title last spring, has several district crowns to its name in recent years. The Panthers garnered Dulles championships in 2001, '03 and most recently two years ago in the spring of 2007.
"Our main expectation every year is to win the Dulles District," said 12th year Potomac Falls coach Joe Terango, whose team opens up the new season with a game at Heritage (Leesburg) this Friday night. "We've done that a few times."
Chances are good that the Panthers will be in the running again this season. They have a solid nucleus of talented players who will lead the charge, including starting pitchers Jake Kline and Mike Detaranto, who combined for 15 wins last year.
Kline, an All-District selection last year who has already committed to play baseball at Div. 2 school Fairmont State (West Va.), earned seven mound wins in '08. The senior, a fourth year starter, is right at home when he is on the hill for the Panthers.
"He has command of his pitches and has a very good mound presence," said Terango. "He controls the baseball game. He continues to work on his game and has a great repertoire as a pitcher."
Detaranto, also a senior, won eight games last year and earned Second Team All-District honors.
"Mike doesn't throw as hard [as Kline], but he locates well," said Terango, of Detaranto's ability to throw strikes and hit the corners of the plate.
Detaranto will play in the outfield when he is not on the mound. Kline will be at first base on his non-pitching days.
Other key players on this year's Potomac Falls team include third baseman Rob Malan and catcher Mike Spring.
Malan batted over .400 last year from the No. 3 spot of the Panthers' batting order and made the All-District team. He recently earned a scholarship to play at Virginia Commonwealth University in Richmond.
Spring, the team's clean-up hitter, is a third year starter behind the plate.
"He's a leader behind the dish like a catcher should be," said Terango, of his backstop. "He has his head in the game. Offensively, he's one of our leading hitters."
Potomac Falls has two quality outfielders in Chad McMichael (center field) and Chris Pelto (right field).
"They're very good and get good jumps on the ball and throw well," said Terango, of the two.
In a couple of weeks, Potomac Falls will travel to Charleston, S.C. for a spring break trip (April 4-8). There, the Panthers will compete at the Hitt Tournament. Stone Bridge, another Loudoun County team, will also be playing in the tournament.