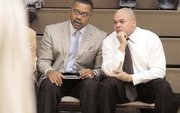 <b>Ireton Basketball Coach Resigns</b>
Mark Vincent has stepped down as Bishop Ireton boys' basketball coach effective as of last Thursday, according to athletic director William Simmons.
Simmons said Vincent's resignation stems from budget cuts being made by the school during these tough economic times. Vincent was an assistant athletic director, a position the school has recently decided to eliminate, meaning the former coach no longer had a full time position.
Vincent, who was once the interim head basketball coach at nearby T.C. Williams, took over in the summer of 2006 after former coach Chuck Driesell left to take an assistant coaching position under Gary Williams at Maryland.
Vincent's Ireton team was full of underclassmen this year and finished with a 5-23 record, winning just one game in the WCAC. During Vincent's two-year tenure the Cardinals won just nine games, but Simmons emphasized that wins and losses had nothing to do with the decision.
"There was no firing involved," said Simmons. "It was about the budget, not how the team performed on the court."
Varsity assistant coach Shirvan Joseph will serve as interim head coach until Ireton finds a permanent replacement.
<b>National Titles For Butts</b>
T.C. Williams senior Tynita Butts capped off her scintillating indoor track season by taking home two national titles at the National Scholastic Indoor Championships last weekend, becoming first athlete in the 26-year history of the meet to win both the long and high jumps.
She won the long jump with a leap of 5-10 1/2 and cemented her status as the nation's No. 1 ranked high jumper by clearing 20 feet 1.25 inches. Butts now turns her attention to the outdoor track and field circuit, where she again star for the Titans before continuing her career at East Carolina next fall.
<b>Alexandria Little League Opening Ceremony</b>
The Alexandria Little League and the Alexandria Department of Recreation, Parks and Cultural Activities will be celebrating the 56th Anniversary of Little League baseball in Alexandria on Saturday, March 28. The ceremony will begin at 11 a.m. at Simpson Field, 500 Monroe Avenue and will honor all past and present players, coaches and volunteers in the league. Screech, the official mascot from the Washington Nationals, will be among the guests along with other local dignitaries. Food and other items will also be sold at the ceremony. For more information, call the Youth Sports Office at 703-838-4345 or go on the Recreation Department's Web site at www.alexandriava.gov/recreation or the Alexandria Little League's Web site at alexandriabaseball.com.