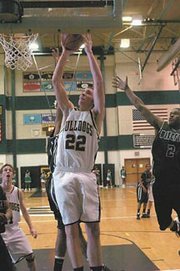 Most successful high school basketball players have benefited from having something pivotal happen when they were freshmen but most of those instances are growth spurts, not what Westfield senior Chris Kearney dealt with.
As an eighth-grader playing travel basketball with the Southwestern Youth Association, Kearney saw those older than him win spots on the freshman team at Westfield, and just assumed that's the same path he'd take.
Jamie Shepherd, the freshman team's coach at the time and now Westfield's junior varsity coach, had other ideas. He sat Kearney down for a chat, letting the player know that a roster spot wasn't guaranteed and there were plenty of others who coveted Kearney's spot.
"That was really the starting point and that really started my fire," Kearney said.
Kearney saw limited playing time during that freshman season, but eventually won a starting spot on the junior varsity team as a sophomore. And as a much-improved junior, Kearney encountered another roadblock and this one wasn't nearly as controllable.
On Westfield's 21-3 team from a year ago, the Bulldogs had as plethora of talent up front, including Ball State freshman Maurice Hubbard. So Kearney played his junior season entirely as a reserve, averaging 2.5 points and 1.5 rebounds per game.
"Last year I was behind some really good players and it was my role to make them better in practice," Kearney said. "So after they left, I knew it would be my turn to step up and take their spot."
<b>AND KEARNEY</b> did, earning Concorde District Player of the Year honors and he was a first team All-Northern Region selection. Kearney averaged 19.3 points, 12.4 rebounds and 3.5 blocks per game -- all team-highs -- and is also recognized as a second team All-Connection pick.
"We've always been a senior-dominant basketball program and you just kind of wait your turn," said fifth-year coach Doug Ewell. "Practicing with the kids that he had an opportunity to practice with, that really made him work harder."
According to Ewell, it didn't take long for that turn-your-head moment to come about. In a season-opening win over St. Stephen's/St. Agnes early in December, Kearney grabbed a rebound -- albeit briefly -- and slammed it home.
"I was like, 'Wow, this kid can really play,'" Ewell remembers. "Because I wasn't sure. He had some good practices in the pre-season, but didn't play very well in the spring and summer last year."
Kearney also showed that not only could he play, but lead. As a co-captain this season with classmate Peter Scanlon, Kearney was in charge of making sure his teammates showed up to open gym, weight room sessions and before- and after-school practices on time.
He had watched players like Hubbard, Jay Richardson, Will Snow and John Gaston perform the task and Kearney wanted to live up to the expectations that were set for him -- not by his freshman coach but by a group of players that kept him affixed to the bench during his junior season.
"It was great playing with those guys," said Kearney, who's looking at four or five Division-III schools and mulling a few offers to walk-on at the Division-I level. "You can only get better by playing against better competition. It was good to see their work ethic, take that and see what you can do better."