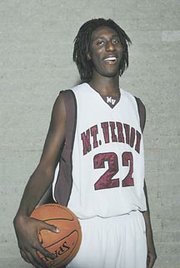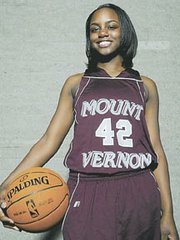 Meeting him, Mount Vernon junior Skylar Jones appears to be just another area teenager, boisterous amongst friends, shy when put in adult situations. On Monday night when Jones came to the Mount Vernon Gazette's office for a photo shoot as a member of this year's all-Connection first team he was no different.
One of the best boy's basketball players in the Northern Region, Jones arrived with his parents but quickly threw his headphones on, quietly bobbing his head to the music while texting friends.
Little did anyone know, a lot more goes on between the ears of Skylar Jones, a budding superstar on the hardwood, but also an aspiring poet, writer, singer, rapper, and artist off it, according to those who know him.
"He's someone that dips and dabbles in a lot of different things," Mount Vernon coach Alfonso Smith said of his dreadlocked leading scorer who also happens to follow politics. "Even with his style of dress, it's not the status quo. I wouldn't call him the typical teen, I would describe him as eclectic."
"I play instruments, I write, sing, rap, I do everything I can," Jones said after averaging 19 points and nine rebounds as the Majors went all the way to the Northern Region semifinals this season.
It's an apt description of Jones' play this season, as the versatile, do-anything forward helped propel Mount Vernon to a 19-game winning streak that came to an end after a last-second Hayfield 3-pointer in the regional semifinals.
And whether it was a key rebound, decisive steal, momentum-swinging block, or some crunch-time scoring, Jones always seemed to be in the middle of things when it came to a Major victory.
Perhaps his most notable performance of the year came in the championship game of Mount Vernon's Holiday Tournament, when Jones hit several fourth-quarter 3-pointers to give the Majors a come-from-behind victory over Wise. It was one of 10 games this season when he registered 20 or more points.
But it wasn't always like this for the lanky, 6-foot-3 Jones. He had to undergo major knee surgery after ligament and kneecap damage during his freshman year and wasn't cleared to play basketball again until a week before tryouts sophomore year. As a result, his weight ballooned to over 200 pounds.
Smith was recently looking at film from last season and his first reaction was, "Look how fat Skylar looks on the court." Want to know just how talented Jones is? Even with the extra weight, Jones still garnered second team all-National District honors during his sophomore year — the first time he had faced varsity competition.
This past offseason, Jones made the commitment to come into the season in shape. He said he ran the Mount Vernon track and lifted weights every morning in preparation. After a season's worth of dominating play, it's clear Jones has that determination every coach wants in his star player — even if the artist inside wants to get creative with it.
"I'm more on cruise control, I just let everything ride and don't let anything get too serious," quipped Jones. "But when it does, I just get focused."
<b>FOR JUNIOR TRACY KING</b>, there was nothing artistic about the way her season ended. After surprising much of the Northern Region with a 20-2 regular-season record, the Mount Vernon girl's basketball team led Oakton by single digits in the fourth quarter of the regional finals when King wanted to take control of the game.
As she did countless times this season, King took the ball hard to the basket. Only this time she ran into Oakton's Erin McGartland, tearing her ACL in the process.
It prematurely ended one of the best seasons in Mount Vernon girl's basketball history, a campaign that saw King average more than 19 points, eight rebounds, and three steals and eclipse the 1,000-point plateau for her career. It all adds up to a spot on the 2008-09 All-Connection girls' first team.
King has yet to go under the knife, as doctors are waiting for the swelling to subside in her two-week-old injury. The star forward admits to being a bit nervous about the procedure, but has overcome any fear by thinking about the road back to the court.
"At first I was really depressed, but now I just focus on rehabbing hard so I can get ready for next season," said King. "My attitude changed this season. I didn't let little things get to me and that helped my game a lot."
"I don't think they'll be any hurdles in her way," said Mount Vernon coach Terry Henderson. "She's a very determined young lady."