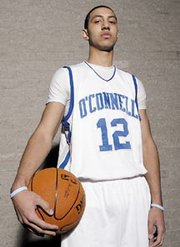 Yorktown boy's basketball coach Rich Avila remembers when Simon Kilday first came to his varsity team two years ago. It was already Christmas break, but coach and player had decided to bring Kilday up to the "big time" to get his feet wet, rather than spend another half-season dominating at the JV level.
Back then, Kilday was "basically a 3-point shooter," according to Avila. Now, he has been named to the all-Connection second team after leading the Patriots in scoring and rebounding, averaging close to 18 points and nine rebounds per game. It caps off a stellar career that saw the 6-foot-4 senior score 861 points in just two full seasons on the varsity.
"I would rank Simon as one of the top five guys at Yorktown since I started in 1985, without a doubt," said Avila. "You don't get guys that are dedicated and willing to work like Simon did year round very often."
His statistics are even more impressive when one considers just how much Kilday did for the Patriots. As a member of last year's National District tournament champion, Kilday was counted on mostly to score from the wing. But this season, the Patriots had no returning interior players, forcing the undersized Kilday to play in the post. Against the best teams in the area, Kilday was counted on to be a secondary ballhandler as well.
"If I wasn't getting a good shot in the first half, I would just be patient," said Kilday after a game earlier this season. "I knew they'd come to me eventually and they did."
Avila thinks his star player was able to handle all this thanks to his strong work ethic. After showing promise as a gun-slinging 3-point shooter early on in his career, Kilday seemed to come in each year with a new skill whether it was a mid-range jumper, improved ballhandling, or new post moves this season.
It certainly helped him down the stretch. Look at his numbers more closely and it's clear Kilday performed at his best when his team needed it most. The forward/center averaged more than 21 points per game in Yorktown's last 12 contests of the regular season. That included putting up a combined 51 points in two regular season meetings with Northern region semi-finalist and National District champion Mount Vernon.
Kilday separated himself from other talented area players with his performances in the Patriots' four games against Arlington public schools. He averaged 21 points per game as Yorktown compiled a 4-1 record in all-Arlington showdowns this season — including a season-high 28 points against Washington-Lee on Feb. 4.
But perhaps Kilday's lasting legacy will be the mark he left on Yorktown's entire program. The Patriots have made it to regionals five of the six years Avila has been head coach and he knows better than anyone, it has a lot to do with players like Kilday.
"The games we won were because Simon had big games," said Avila "He had more responsibility thrust on him this year, and yet his scoring didn't drop. He had to be the go-to guy and he was pretty consistent all year long."
<b>OVER AT BISHOP O'CONNELL</b>, it's no secret that junior Kendall Marshall has a bright future ahead of him. One of the top recruits in the country, the North Carolina-bound point guard is a bit disappointed these days after the Knights dropped consecutive postseason match-ups against conference rival Paul VI — a 52-34 loss on Feb. 28 in the WCAC Tournament and a 50-45 state-tournament loss on March 4.
But O'Connell posted a more-than-solid 22-8 record competing in the toughest conference in the area, while playing one of hardest schedules in the country, and still flirted with a top-50 national ranking at times. The 6-foot-3 distributor was the catalyst for it all, averaging 16 points and eight assists per game, and played all five positions on the floor at some point during the season. As a result, he has been named a first-team all-Connection selection. So what's next for this budding star and future Tar Heel?
"I just want to keep getting better," said Marshall. "Last summer I worked on my jump shot and now I'm going to focus on defense so I can become a more complete player."
<b>ON THE GIRL'S SIDE</b>, Yorktown's LaNia Charity was named honorable mention all-Connection after leading the Patriots back to the Northern Region tournament for a second-consecutive season under coach Kim Cordell.
Charity, a senior, averaged close to 12 points per game and was instrumental in Yorktown's third-place finish in a tougher than expected National District. With several talented newcomers on the squad this season, Charity also took on more of a leadership-role, something her coach appreciated.
"I think what makes LaNia a fantastic player is that she has a really good head on her shoulders for us," said Cordell earlier this season.