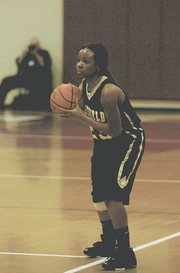 A bit of advice from Westfield girls basketball coach Pat Deegan: "You never should play that last fall league game," a caveat offered after his team's 55-44 loss to T.C. Williams last Friday in the Northern Region semifinals at Robinson Secondary School.
That sentence from Deegan pertained to senior Alicia Richardson, who tore her right meniscus during that last fall league game and missed more than two months of the regular season. She had surgery midway through November and didn't regain full health until January.
The fact that Richardson even attempted a comeback — torn knee ligaments aren't considered one of the more gentle injuries in sports — let alone succeeded at it, provided Westfield's young team with a real-life blue print of how to conduct themselves.
And it's a good thing, too. The Bulldogs will lose only Richardson to graduation from a 19-9 team, while also returning a talented batch of juniors, led by first team All-Northern Region performer Shelby Romine.
"She was key for us in our postseason surge, and I said I wanted everybody to take a lesson from that," Deegan said of Richardson's comeback. "It's unusual for a young lady to do something like that."
Westfield's loss to T.C. Williams halted a region tournament run that included wins over Yorktown and Annandale last Monday and Wednesday. The region final featured a 74-66 win by Oakton over T.C. Williams.
<b>RICHARDSON RETURNED</b> during a 64-29 victory over Annandale on Dec. 27, which was also the first round of Westfield's annual holiday tournament. But according to Deegan, Richardson wasn't at her best until the end of January, when Westfield closed its regular season by winning four of its final five games.
"I think I came back a little too soon," Richardson said. "It was hard. It was my senior year so it wasn't really good timing, but it worked out pretty well."
Against T.C. Williams, Richardson netted seven points and drilled a 3-pointer early in the game, but her contributions all season -- an average of five points per game -- haven't been quantified by numbers and box scores. She's the older player that those like Romine turn to for guidance.
"For her to be there every time we practiced, it let me know that we had someone rooting for us and she really wanted the team to win, whether she was involved or not," Romine said. "If that was to happen to me during my senior year, I would want to react the same way."
Romine scored a team-high 14 points against the Titans and added seven rebounds, while classmate Mary Barondess, an athletic, 5-foot-10 post player, chipped in with 10 points and a team-high eight rebounds. Barondess averaged seven points and seven rebounds per game.
"We were a competitive team this year," said Romine, who totaled 16.5 points, 4.5 rebounds and four assists a night. "I'm hoping to win the district, to be quite honest. I think that's reasonable."