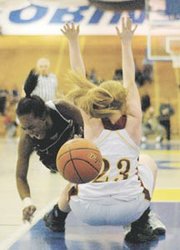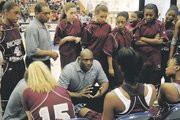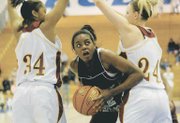 To really judge just how disheartening a loss last Friday night's 47-39 defeat to Oakton was for the Mount Vernon girl's basketball team, one had to look no further than the scene Saturday afternoon when its male counterparts took the floor for their own regional semifinal match-up.
Many on the girl's team sat emotionless directly behind the Mount Vernon bench, the tears gone from the injury-riddled night before, but none were in the mood to stand and join the Majors' boisterous student section. Those associated with the team could only shake their heads in disbelief about what had taken place less then 24 hours earlier as Mount Vernon watched what was a 21-2 first-half lead turn into a season-ending loss.
"I couldn't sleep at all, I laid in bed all night thinking about that game," said one assistant coach of the loss, which cost Mount Vernon a trip to this year's state tournament.
<b>THE ONLY REGRETS</b> should have been within the Oakton camp, after the undefeated Cougars shot 5-of-23 from the field in the opening half Friday night, thanks to some tenacious Mount Vernon defense.
After Oakton freshman Caroline Coyer (game-high 22 points) hit a jumper to open the game, the Cougars proceeded to miss 14 consecutive shots — including four free throws — and didn't score again until Coyer hit a 3-pointer with 3:40 remaining in the second quarter. By that point, Mount Vernon had built a commanding 19-point lead.
"I thought coming in we could beat them, probably by double digits," said coach Terry Henderson. "Even though (they're undefeated) … I really thought we could come in and jump out early."
But the Cougars, and more specifically Coyer, kept chipping away and the Majors entered halftime up just 12 points. Coyer had 10 of her team's 14 first-half points.
What will really irk Mount Vernon the rest of this offseason, though, is the second half. After some turnovers got the best of the Majors in the third quarter, Oakton (28-0) entered the final period down just six points.
After a 3-pointer drew the Cougars to within four, 37-33, with more than five minutes remaining, the Majors' star player, all-region first team selection Tracy King (22 points, nine rebounds), put her head down and decided to gut out a win for her team.
She proceeded to drive to the hoop, draw a charging foul after running into Oakton's Erin McGartland, and hurt her right knee in the process. From there, the Cougars went on a 14-2 run to close the game, again thanks to Coyer, who promptly hit a 3-pointer and nailed two free throws with King on the sideline the remainder of the contest.
In last Wednesday's regional quarterfinal against West Springfield, Mount Vernon (24-3) also nearly coughed up a double digit second-half lead, but King rescued them late with a key lay-up, steal, and subsequent assist to eke out a 51-45 victory. The whole situation Friday night illuminated a disturbing trend for Henderson, who afterwards was upset with the officiating.
"I don't feel the kids decided the game," said Henderson of the 14 more fouls called against his team during the game. "We knew they would make a run and that's understandable, but the way the fouls were called … it was horrible."
<b>MOUNT VERNON</b> had high expectations coming into the regional tournament after jumping onto the Northern Region scene with big time wins over regional finalist T.C. Williams and 2008 National District champion Edison in the beginning of the year.
And even though the season ended in bitter disappointment, the team should look no further than its Alexandria neighbors, T.C. Williams, for how to deal with such a devastating injury.
Last season the Titans' star player, Tierra Ruffin-Pratt, separated her shoulder in the Patriot District Finals and her team lost earlier than expected, in the first round of regionals, as a result.
But Ruffin-Pratt came back for her senior year with a vengeance, something juniors Jalinda Venable (14 points per game), Jasmine McDonald (nine ppg) and King (21 ppg) should take heed of. King will have an MRI in the coming weeks to determine the exact damage done to her knee.
"I know it hurts, but I told them to hang on to the taste in their mouths because we'll be back next year," said Henderson.