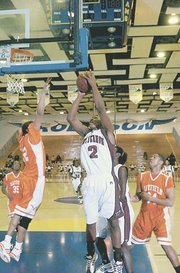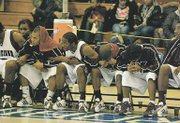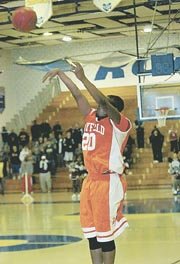 Growing up, every high school basketball player dreams of hitting that game-winning shot to send his team to a regional final. Nobody thinks of being the guys on the other end, though.
And yet that was the reality facing the Mount Vernon boy's basketball team after Hayfield junior Brandon Winbush nailed a cold-blooded 3-pointer with just 3.2 seconds remaining in last Saturday's Northern Region semifinal at Robinson to give his Hawks a thrilling 60-57 victory and a spot in this year's state tournament.
The loss snapped a 19-game winning streak for the Majors — a span of 76 days.
"I was praying [Winbush's shot] wouldn't go, but it went in," said dismayed Mount Vernon junior Robert Smith. "It was a huge shock. We haven't lost in a long time, we forgot how it felt."
What made the shot so excruciating wasn't its beauty or its significance. It was the game that had unfolded before Winbush's jumper took flight that had Mount Vernon grasping for what could have been.
The Majors and Hawks exchanged leads eight times and had seven ties in a contest where no team led by more than six points. And it was the hustle of one Mount Vernon player as his team fought back from a six-point deficit with a little more than two minutes remaining that should define the Majors' season more so than any game winner could.
With Mount Vernon trailing 54-48, Smith (11 points) took control, hitting a lay-up while getting fouled for a three-point play. After Hayfield's T.J. Wilson hit one of two free throws on the ensuing possession, Smith hit another tough lay-up to draw the Majors within two.
Smith then drew a charge, forcing Hayfield's Chad Kennedy to the bench with five fouls, and setting up perhaps the game's second-most memorable sequence.
After junior Skylar Jones (game-high 15 points) and senior Robert Coleman (nine points) nearly turned the ball over on a sloppy pass, Smith dove into the midst of a group of two other Hayfield players and somehow recovered possession. He then had the wherewithal to find Coleman, who then saw wide-open senior Kyle Ricks (11 points, nine rebounds) for a lay-up to tie the game at 55.
It was a combination of sloppiness, hustle, poise, and teamwork — a fitting description of the Majors entire season.
"It was a good game," said Jones. "But it's hard to think about that right now when you lose."
WHEN THE SEASON first began, it looked like the regional semifinals would be the last place to find Mount Vernon. The Majors lost four of their first six games of the season — including a 61-52 loss to Hayfield on Dec. 12 — as they tried to solve chemistry issues following the departure of last year's star player, Marquel de Lancey, now playing at Old Dominion.
Mount Vernon looked to be an extremely deep and talented group of individuals all looking to fill the void at once, rather than combining to do it collectively.
"Those four losses were a big character check for us," said coach Alfonso Smith. "They humbled us and made us open to being teachable."
From there, Mount Vernon (21-5 overall, 14-0 National District) marched through the rest of the season, winning its own holiday tournament thanks to a confidence-building 76-71 win over Wise (Md.) and followed that up with an unblemished record in National District play.
<b>LEADING THE CHARGE</b> the entire season was Jones, who in addition to being named the National District Player of the Year was selected to the all-Northern Region first team last weekend.
The lanky, 6-foot-4 do-everything forward put up close to a double-double in scoring and rebounds every game, averaging more than 18 points per contest. He was aided by a litany of role players — Smith singled out seniors Brian Green and Ricks for their strong play — who grew to accept their positions after initially chafing at the responsibilities.
"Through each game, we just stayed together," said Jones on why his team was so successful.
"To really be one game away from the state championship is huge for the program," said Smith. "Our team has been showing a lot of heart, a lot of fortitude throughout the season and that didn't change in one game."