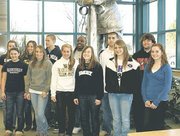 <b>Sully Challengers Offer Opportunity</b>
The Challenger division, represented locally by the Sully Challengers, was established in 1989 as a separate division of Little League baseball to enable boys and girls with physical and mental disabilities to enjoy the sport. Teams are set up according to ability rather than age, and each player gets a chance to bat. The side is retired when the offense has batted around. The Sully Challengers represent both the Chantilly and Southwestern Youth Associations, providing quality baseball for area youngsters. The season starts in early April, and the team plays every Friday between 6 and 7:30 p.m. at Chantilly Park on Stringfellow Road (across from Chantilly High School). For more information or to register, contact Sean Fitzsimmons at s.fitzp@verizon.net or Brenda Kirschner at Beekay3@aol.com.
<b>CYA Soccer Breakfast</b>
The Chantilly girls soccer team will host a pancake breakfast on Sunday, March 8 at Buffalo Wing Factory (13067 Lee Jackson Highway) from 7:30 until 10:30 a.m. Cost is $5 per person, with special appearances scheduled by former Charger Mary Casey and the Washington Freedom's Jill Gilbeau. Casey was recognized as an All-Atlantic Coast Conference goalkeeper and an Academic All-American at the University of Maryland, while Gilbeau, formerly of the University of Texas, currently plays in the Women's Professional Soccer League. There will always be a raffle to win a practice session with Chantilly head coach Melissa Bibbee and the 2009 varsity team. For questions, contact Rhonda Theoret at 703-758-0374 or rtheoret@cox.net.
<b>State Track Roundup</b>
At the Virginia AAA state indoor track and field championships, held last weekend at the Boo Williams Sportsplex in Hampton, two Chantilly runners and one of its pole vaulters posted top-10 finishes. Wesley Sun, who last week set a Northern Region with his mark of 15 feet, reached 14-09 to finish third. Chris Foley, the reigning region champion in the 3,200-meter run, was also third with his mark of 9 minutes, 30.96 seconds. In the 500 dash, Mohammed Labor-Koroma placed eighth with a time of 1:07.08. Centreville was led by Yazid Zouaimia, who was 10th in the 1,600 at 4:26.93 and ran the second leg on the Wildcats' fifth-place 4x800 relay team of Mattson Heiner, Zouaimia, Tyler Bickley and Dan Grimm). Westfield's Melissa DiVecchia was 18th in the girls 1,600 at 5:29.03 and also anchored the 11th-place 4x800 relay team The Chantilly posted the top finish locally with 13 points, good enough for 11th place. Albemarle won the boys title and Bethel led all girls teams.
<b>Morgan Recognized Nationwide</b>
Paul VI senior Chad Morgan was recently honored as one of the top senior baseball players in the country with his selection to the BaseballClearingHouse.net All-National team. Players were selected from a pool of over 100,000 high school players nationwide. The All-National team is made up of only 2009 high school players from around the nation. Morgan is a three-year letterman at Paul VI where he helped the Panthers win the 2008 WCAC regular-season championship, the Southeastern Baseball Classic Championship and the VISAA State Championship in 2008. As a junior last season, Morgan batted .418 with 28 RBIs and two home runs while drawing a school-record 26 walks. Morgan has signed to play next spring with Virginia Tech. cancelled canceled
<b>CHADD to Hold Martial Arts Program</b>
Children and Adults With Attention-Deficit/Hyperactivity Disorder (CHADD) will offer a program titled "Martial Arts for Kids with ADHD" on Wednesday evenings throughout March. There's no cost, and the program will focus on aspects of Tae Kwon Do and Brazilian Jiu Jitsu, as well as grappling and wrestling. The program will be taught by the chief instructor at Carl Runk's World Karate and by an award-winning high school wrestler, grappler and Brazilian Jiu Jitsu competitor who was diagnosed with ADHD 10 years ago. The program will run from 7:30 until 8:15 p.m. at Carl Runk's World Karate at 9537 Braddock Road. To register, visit www.novachadd.org.
<b>Hockey Teams Seeks Players</b>
The American Icebirds, a AAA ice hockey team, are looking for players ages 14 to 18 in all positions for spring and summer competitive tournament play that runs from May to July. Interested players should call 703-400-2343 and ask for coach Kulla or send an email to icebirds@inbox.com.