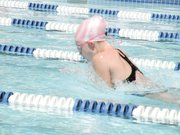 <b>Vikings Seize Win</b>
The Village West Vikings scored their first victory on Saturday, June 27 with a 212-190 home win over the Little Hunting Park Gators. Double-event winners for the Vikings were Sophie Moffatt, Andrew Susa, Aidan Pastel, Emily Reba and Amy Berglund. First- place finishers also included Daniel Susa, Tom Susa, Anna DeMarr, Calvin Pastel, Lake Stiles, JoJo Kriebel, Tim Shields, Emily D'Amato, Christie Kriebel and Dylan Aunon. The Vikings swept four different events for the day: the 9-10-year-old boys' 50-meter backstroke, the 11-12 boys' 50 freestyle, the 9-10 boys' 25 butterfly and the 11-12 boys' 50 fly. Fifty-three personal-best marks were set.
<b>Grand Ole Ospreys</b>
The Old Keene Mill Ospreys, a Division 12 team in the NVSL, competed against the Long Branch Dolphins on Saturday, June 27. Though the Old Keene Mill lost, 230-172, it achieved a team record and posted several impressive swims. The Ospreys were led by the 15-18-year-old girls' 200-meter medley relay team of Isabella and Alessandra Troncoso and Jordan and Taylor Parry, which finished in 2 minutes, 12.91 seconds, eclipsing the 11-year-old record. Posting three, first-place finishes each were Sam Dallstream (13-14 boys' backstroke, butterfly and 100 medley relay) and Isabella Troncoso (15-18 girls' freestyle, backstroke and 200-medley relay). Other first-place finishers for the Ospreys were Skyla Davidson and Jack Tyburski in the freestyle, Stephanie Chewning and Erin O'Hara in the backstroke, Freddie DeWeese, Jane Kernan and Alessandra Troncoso in the breaststroke and Kira Flinn and Jordan Parry in the butterfly. The U-8 girls', 13-14 boys', 15-18 girls', and mixed-age girls' relay teams rounded out the first-place finishes.
<b>Basketball Camp</b>
Lee High School graduate C.J. Vick and the Jewish Community Center of Northern Virginia will host an eight-week-long basketball clinic on Sundays from July 12-Aug. 30. For ages 5-8, camp will run from 12-2 p.m. For ages 9-12, camp will run from 2-4 p.m. Cost for all eight sessions is $175 if registered before July 3, $160 for JCCNV members and $200 for non-members. The camp is designed to provide quality instruction to young basketball players and to improve campers' offense, defense, and ball handling and shooting. One-on-one lessons are available. Vick graduated from Quinnipiac University after winning four Patriot District titles at Lee. At Quinnipiac, Vick set a school record for shots blocked and ranked second at the school in career rebounds.
<b>Spartan Hoops Camp</b>
The West Springfield boys' basketball program is offering two weeks of basketball camp this summer on July 6-10 and July 20-24 between the hours of 9 a.m.-3 p.m. The camps will cost $150 each. Additional information and registration forms are available at www.spartansports.org. Information can also be obtained at 703-913-3874 or 571-236-0006.