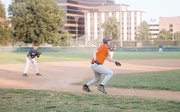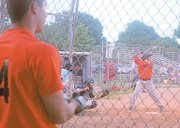 It was the middle of the fourth inning of Saturday night's American Legion baseball game between Post 139 of Arlington and Post 24 of Old Town Alexandria when three recent West Potomac graduates — including Wolverine baseball standouts Danny Peterson and Grady O'Hagen — showed up following a week at the beach to celebrate the end of high school.
Somewhere on the opposing Arlington bench, though, sat center fielder and 2008 Yorktown graduate Jack Bergsman, who would probably just shake his head and laugh had he been teammates with the late arriving players.
Bergsman is one of several players around the area, including multiple on both teams Saturday night, that have returned to the American Legion baseball league even after a year in college. Thanks to a late birthday that has him turning 19 after the Jan. 1 cutoff, he is cherishing another opportunity to take the diamond on a regular basis.
"I don't think the [younger guys] realize for us, this is probably our last year ever playing organized baseball," he said, referring to his own team. "And they, they have another year so they're taking it for granted a little bit. But we're putting forth maximum effort because every game is one less that we have to play."
Bergsman just finished up his freshman year at Longwood College, but didn't play baseball there. However, his teammate at Yorktown, Danny Johnson, did play for the Lancers this past season and decided against pursuing a spot in one of the various collegiate wooden bat leagues in the area.
Along with Alex Brown, another 2008 Yorktown graduate who will be a sophomore at Longwood this fall, the trio decided one last year of "legion ball" was the best way to enjoy the summer with friends, while working on their games.
"I was always gonna come back and play," said Brown. "It's nice being able to have another summer of baseball before I'm done pretty much for the rest of my life."
<b>POST 139</b> manager Vondell Johnson, a Bishop Ireton assistant in his first season coaching the Arlington American Legion team, hasn't taken his older players for granted, either. When he decided to take the job, he made it a point to invite every player from last year's team to try out again.
And though it took them awhile to get back into the swing of things, since most didn't play college baseball, Johnson has noticed they add something else that the normally relaxed American Legion league doesn't have an abundance of — a little desperation. On Saturday night, five Post 139 players had already finished up a year of college.
"The young guys look at them, look up at them, and see how they bust around the field and get after it," said Johnson. "I think that's what makes this team a lot better, those guys returning after a year of college."
<b>THAT BALANCE</b> of old and young, so to speak, has Post 139 off to an impressive 10-4 start this season, tied for second place in the 17th district standings. In Saturday's 9-3 win over Post 24, recent Yorktown grad Jordan LaBella threw a complete game, while Johnson and fellow rising college sophomore Brady Rall led the offense. Johnson's RBI triple in the third inning scored Rall and helped Post 139 — which consists of players from Yorktown, Washington-Lee, Wakefield, and O'Connell — pull away for the victory.
Rall, a Virginia Commonwealth student, said the win was just another reminder of why he chose to play American Legion baseball once again.
"I went a whole year without playing baseball after basically it being my whole life growing up," he said. "I missed it."
"From what I've seen, I think these guys just do it for the love of baseball," said Johnson.