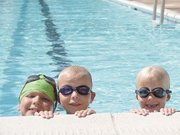 Gray clouds hovered ominously over South Run Community Pool on Sunday, June 28, and rumors of afternoon thunderstorms made sure everyone's eyes were trained on the sky. It's not the best forecast for the pool's Swim-a-Thon, an annual event to raise money for the organization Life with Cancer.
But where the sun failed to shine, the community's generosity did not. Within the first hour of the Swim-a-Thon, the pool had already raised more than $600.
Blake Murphy, a 15-year-old assistant coach of the pool's swim team, was one of the people who came up with the Swim-a-Thon idea, which is now in its second year of existence.
"A lot of my friends on the team, a lot of the other coaches even … their parents have cancer and they're out here volunteering, working the concession stand, timing, just like all the other parents and this is just the way we want to give back," said Murphy.
The idea behind the Swim-a-Thon is fairly simple. A tent and table are set up in the corner of the pool where anyone who makes a donation can slip money into an envelope. After supporting the cause with funds, those who donated are invited to swim laps in support of the cause as well.
<b>DREW BOLLEA,</b> head coach of the South Run swim team, appreciated the community support. His mother is a breast cancer survivor and his father is currently dealing with multiple melanoma, a cancer that attacks one's bones. He remembers the scene at the inaugural Swim-a-Thon.
"At one time … the entire pool was just covered with people swimming," said Bollea. "I think that really shows how much this neighborhood really cares that they're willing to come out here and contribute. The people who were just here at the pool and didn't really know anything about it would walk up and say, 'Hey what is this?' And they'd throw 10 bucks in or something and do a couple laps."
The number of swimmers may have been down from last year, but the checks kept coming in. All of them were made out to Life with Cancer, an organization based in Northern Virginia that provides counseling and helps those afflicted with cancer release their emotions through different art forms such as music and writing.
Laura Murphy, Blake Murphy's mother, was at the pool all day either swimming laps or working the donation table and was one of the people who suggested the funds be donated to Life with Cancer.
"They really know how to work with [cancer patients] and pull things out that you generally wouldn't get from them, what they're experiencing," said Laura Murphy. "And we like the direct benefits that they see. If you just give it to 'xyz' charity then you don't really see the direct benefits."
<b>THE DIRECT</b> benefit comes in the form of a salt-water fish tank. Life with Cancer wanted to put one of these tanks in an area location to give its building a more serene atmosphere. The tanks cost $5,000 a piece and they asked the South Run Community Pool to contribute what they could.
That number wound up being in excess of $1,600 and they expect more to come in the days following the Swim-a-Thon, as the donation envelope remains at the pool's entrance for those who couldn't attend the event.
It may not be enough for a salt-water fish tank, but the emotional support is often what matters most.
Matt Jackson, a member of the South Run community, has no personal ties to cancer but came to swim some laps anyway.
"When you're in a challenging time in your life and people recognize it, there's always something good that comes from that," said Jackson. "It keeps your spirits up."