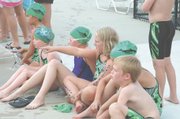 For one night at Greenbriar Pool Club, the focus was having fun with friends and not who touches the wall first. The 21st-Annual Patsy Graham Midsummer Splash-About was centered around relays, both traditional ones and others.
The event includes medley, freestyle and mixed-age relays, as well as kickboard ones, mixed-gender relays and events for those 19 and older. One year, it even included a relay in which swimmers dove in with balloons tied to their shirts.
"It's all about having fun and getting all the teams together," said assistant coach Emily Duesterhaus, who has been attending the meet for 10 years.
This year five local teams competed at the meet: Greenbriar, Brookfield, Franklin Farm, Pleasant Valley and Poplar Tree.
Swimmers line up by the edge of the pool, screaming for each other. An announcer sits in a lifeguard stand, calling out the play-by-play of who's in the lead. Best of all, smiles brighten everyone's faces, swimmers and spectators alike.
<b>PATSY GRAHAM</b> swam on the Greenbriar team and was also a coach. At 17, she was diagnosed with Ewing's sarcoma, a type of bone cancer. She died two years later. The Greenbriar swim team then decided to start the meet to celebrate her life.
Patsy's mother, Connie Graham, still plays a role in the meet. She helps design the T-shirt with a friend and was on hand to sell them.
"It's kind of a special thing," Graham said. "Kids may go to school together, but they don't get to compete against each other.
It gives them a sense of neighborhood."
Money raised goes toward a scholarship at James Madison University. Graham said they try to give it to someone who is recovering from cancer or another illness.
Another option is to give it to an education major, Connie Graham said, since her daughter was studying elementary education. In all, about $60,000 to $70,000 has been raised for the scholarship fund throughout the 21 years. This year and last year, the T-shirts had angel wings with an "O" and an "A" on the sleeve to honor Olivia Aull, a Greenbriar swimmer who died two years ago in a car crash.
<b>IN SATURDAY'S ACTION,</b> Greenbriar narrowly won its meet against Ravensworth Farms, 207-195. The team was led by several double-event winners including Lucy Wang, Liam Maison, Andres Alarcon, Lea Gwennap, Jacqueline Clabeaux, Alex Strait, Leigh Siegfried and Rebecca Yost.