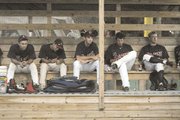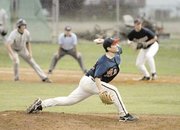 As a lifelong Herndon resident, Dan Lombardozzi has attended his share of Herndon Braves' games, issuing wide-eyed stares to players of the past as if they were steps away from the Major League Baseball All-Star game.
When Lombardozzi, a right-hander pitcher, graduated from Herndon High School in 2006 after posting a 6-2 record with a 1.88 ERA, he did what came most natural: He suited up for the Braves.
But Lombardozzi and his family have taken their entanglement with the Braves' organization farther than most. Every summer since he was in middle school, the family has hosted at least one player from the team, which is one of eight in the Cal Ripken Sr. Collegiate Baseball League.
This year, in addition to the one Brave that the Lombardozzi's continue to house, the family has welcomed Rider University right-hander Ryan Miller. In the past, the family has hosted a few notable Braves in Matt Gaski and Mark Jurich (Louisville). Gaski, a U.N.C.-Greensboro graduate, is currently with the Brooklyn Cyclones, the New York Mets' Single-A short-season affiliate.
"It was cool to be around it and then get to play for the team," Lombardozzi said.
Along with 2009 Herndon graduate and first team All-Northern Region catcher Zach Leach, Lombardozzi is one of two Herndon-area players to suit up for the team this summer. Furthermore, the Braves also feature a few George Mason University players in pitcher Jack Zeltner (Centreville), pitcher Darren McLean and infielder Dan Palumbo.
<b>BECAUSE OF</b> George Mason's historic 2009 season and the Patriots' sixth NCAA tournament appearance, Zeltner, McLean and Palumbo were late arrivals for Herndon, which started its season on Saturday, June 6, less than a week after Mason's season concluded.
Furthermore, Lombardozzi's Coastal Carolina team played all the way until the same date. All told, without some of its top players, Herndon struggled early on, losing eight of its first nine games.
Now with a full complement of players, though, things have turned around as the Braves won five straight games last week, and handed the College Park Bombers a 8-3 defeat on Sunday, June 28.
All told, the Braves (8-9) are riding a six-game winning streak that has reversed a 1-8 start.
"We're starting to go on a nice little run," said second-year manager P.J. Mitchell. "It took us a while to find ourselves. We lost a lot of tough games early, but we're rolling right now. We're ready to make that push to put ourselves back in the hunt."
Right fielder Corey Taylor (Binghamton) has been at the forefront of Herndon's resurgence. In a three-game span last week, Taylor hit a total of five home runs. On the season, he's hitting at a .373 (22-for-59) clip with 17 RBIs. And his slugging percentage of .814 is nearly double that of his closest competition.
<b>WATCHING TAYLOR</b> and the other Braves from the bench this season has been Galvin Morris, who's assisting Mitchell for the second straight year. In addition to coaching in the Clark C. Griffith League, another college summer program with teams in Vienna and Fairfax, he's been the skipper at South Lakes since 2000.
Morris has loved every minute his low-pressure duties, too. On game days as a manager, he's often tense, too worried about strategy, substitutions or filling out a lineup card. This summer, Morris finds himself joking around with several players, something that wasn't as easy to do as his team's manager.
"Guys come up to me and tell me that I'm really loose. Well, I tell them, you should come see me in the spring," Morris said. "Come to a spring game and see how loose I am. It's different. And the kids approach you a little bit different when you're an assistant and not a head coach."
Morris has had a few conversations with Leach and Lombardozzi that have confused some other members of the team. The Northern Region? The Concorde District? Who's Al McCullock and why's his name on our field?
But, with a full team now and roster mixed of some local guys and some not-so-local guys, a certain familiarity has developed for the Braves, a team that has had a long, rich history in college wood bat league: They're winning.
"As far as the Braves' organization and family, it's a real talent-oriented team," Lombardozzi said, "and for a lot of the good players that come out of this area, it's the perfect league to come back to."