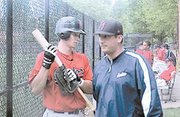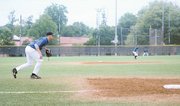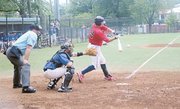 It was merely an RBI single by Oakton graduate Kevin Wager in the top half of the first inning that drove in Langley graduate Foster Dunigan during Sunday's Clark Griffith Baseball League (CGL) game between the Vienna Senators and D.C. Grays at Waters Field, but the hit resonated all the way up in Philadelphia.
That's because after four years of fostering a healthy Fairfax County based high school baseball rivalry, Dunigan, an infielder who just finished his freshman season at Temple, and Wager, a third baseman from Villanova, ended up on rival teams once again when they joined the college baseball ranks this past spring.
Now the two have come full circle, teammates for this summer, playing wooden bat summer baseball back in the area where each grew up. It has given both a new perspective on what the rivalry and their opposition is all about.
"It's a little weird," said Wager of being on the same team as Dunigan. This past season, his Villanova squad defeated Dunigan's Temple team two out of three times. "Yesterday, we were talking about whether his college coach makes a big deal of the Temple-Nova game as much as ours does and he said yes. It's good to hear they put as much importance on it as we do."
"It's nice playing with him because at least I know him, I know how he plays, I know that we can hold up our end of the lineup," said Dunigan, a Great Falls native and an all-region selection as a high school senior in 2008.
<b>WAGER AND DUNIGAN</b> are just two of 36 players from Fairfax County who have returned to the area this summer to take part in the CGL, one of the nation's top summer baseball leagues. In Sunday's game between the Senators and Grays, which Vienna won 11-2, 16 players from the area took part, six of whom are McLean, Oakton, Vienna or Great Falls natives.
Having been around for more than 60 years now, the CGL has turned an annual rite of passage for the top Division-I players from the area to work on their games heading into the upcoming collegiate season, all while testing their mettle against some top notch competition.
Notable alumni include Mark Teixeira of the New York Yankees, Jonathon Papelbon of the Boston Red Sox and Joe Saunders of the Los Angeles Angels.
Still, though, the league's roots remain locally grown. For instance, the Vienna Senators are managed by Chris Burr, a Madison graduate who played four seasons in the big leagues for the Texas Rangers.
"You come out here everyday and play with the guys you grew up with," said Oakton grad Alfred Rodriguez, currently a shortstop at Maryland playing for the Vienna Senators this summer. "We played against all these kids in high school and so now it's sort of fun."
Rodriguez is splitting time on the field with his former Oakton teammate and current Virginia starter Keith Werman, who just finished up a 6-for-10 hitting performance for the University of Virginia baseball team in the College World Series.
Though he was playing in front of packed stadiums on national television just a few weeks ago, "it's still the same game" in the CGL, according to Werman, who like everyone else involved, is just trying to get a leg up on the competition heading into his sophomore year of college.
<b>ANOTHER DRAW</b> for area players is getting to sleep in their own bed. Many players in the CGL hail from colleges and towns across the country, and therefore spend the summers with host families. The locals, though, get to go home after a long day of baseball.
Players in the CGL typically have three to four games per week, and are on the diamond or in the weight room for workouts five or six times a week.
"Especially after being away for eight months, it's nice that I don't have to travel my first year out of college," said Dunigan.
For Wager, coming back to the area for summer baseball has been more than he could have hoped for. He played on Waters Field as a youngster in Vienna Babe Ruth leagues, but his parents moved to Richmond following his senior year at Oakton. So playing for the Grays has given him the chance to have a homecoming of sorts with all his high school friends.
And it hasn't stopped him from giving one of his new ones a hard time. When asked if he had gloated to Dunigan about Villanova's season-series win over Temple, a wide grin came over his face.
"I probably should, I've never thought about that," he said. "But we've got 40 or so games over two months, so there's time for that."