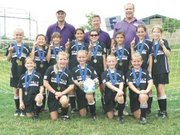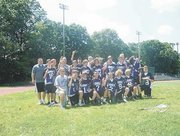 <b>Champions at Last</b>
The Chantilly Elite U-15 boys' lacrosse team made history this spring, as it became the first Chantilly Youth Association lacrosse team in 20 years to win a championship. The Elite started the year lacking depth in overall lacrosse experience, but the team battled its way through the Northern Virginia Youth Lacrosse League's Northwest Division and finished the regular season at 8-0. After two playoff wins, the team defeated a very physical team from Vienna in the NVYLL Northwest Division championship game, 8-5. And perhaps most impressive, eight different players scored for Chantilly.
<b>Poplar Tops Poplar</b>
The Poplar Tree Pirates swam past Poplar Heights, 237-164, on Saturday, June 27 to improve to 1-1 this season. Double-event winners included Nick David (U-8 boys' freestyle and backstroke), Steven Longino (9-10 boys' freestyle and butterfly), Evan Baker (11-12 boys' free and fly), Michael Amico (11-12 boys' back and breaststroke), Lauren Hensley (11-12 girls' back and fly), David Stewart (13-14 boys' free and back), Brianna Fridy (13-14 girls' free and fly) and Elizabeth Hall (15-18 girls' back and fly). Single-event winners for the Pirates included Lauren Young (U-8 girls' free), Julia Young (U-8 girls' back), Mary Kominski (U-8 girls' breast), Jonathan Wen (9-10 boys' back), Corey Miller (13-14 boys' breast), Preston Rhodes (13-14 boys' butterfly), Katie Dingman (13-14 girls' back) and Sean Davidson (15-18 boys' breast).
Winning relays included the U-8 boys' freestyle team of Ted Ellis, Nels Williams, Nico Coray and Nick David; the U-8 girls' freestyle team of Haley Alderman, Kominski, Lauren Young and Julia Young; the 9-10 boys' medley team of Wen, Zac Cummins, Longino and Marcelo Coray; the 11-12 boys' medley team of Amico, Daniel Gilchrist, Baker and Ryan Rickard; the 13-14 boys' medley team of Stewart, Miller, Rhodes and Sam Dixon; the 15-18 girls' medley team of Julie Morgan, Angela Virostek, Hall and Kim Weinberg; the boys' mixed-age free relay team of Baker, Longino, Stewart and Sean Davidson; the girls' mixed-age free team of Hensley, Corinne Kominski, Brianna Fridy and Hall.
<b>Brookfield Broken Again</b>
The Brookfield Breakers dropped a 221.5-179.5 decision to the Flippers of Fairfax Club Estates on Saturday, June 27. Although the Breakers were outdone by the Flippers, Brookfield won eight relay events, including every relay swam by the girls. The Breakers saw strong performances with double first-place swims by Anne Ettare, Anna Kenna, Mary Kate Kenna and Shannon Silsby. Also taking first for Brookfield were Ben Carey, Claire Kenna, Brandon Park, Carl Baumann, Ava Saylor and Melissa Kapfer. The Breakers will try to get their first win on Saturday as they host the Marlins of Mantua on the Fourth of July.
<b>Better than Chocolate</b>
The Chantilly Youth Association Freedom 98, a U-10 girls' travel soccer team, won the Hershey Invitational Tournament during the weekend of June 20-21 in Hershey, Pa. In the championship game, Freedom 98 outlasted the Hersey Wildcats, clinching the victory after two overtime periods and 10 penalty kicks. Team Most Valuable Player awards were presented to McKenzie Wallace, Cara McFerren, Megan Vasquez and Abby Alexa.
<b>Bluefins Cruising</b>
The Chantilly Bluefins are off to a 2-0 start in the Colonial Swim League. For the first meet of the season, the Bluefins outlasted Countryside, 271-171, on June 20. A week later, Chantilly narrowly edged Fort Myer, 223-220, thanks to the mixed-age relay teams of Matt McKenzie, Alex Botten, Jihum Yom and Marco Tillard, as well as the team of Maddie Mason, Tally Lott, Carolina Ratcliff and Kristen Havrilla.
<b>Summer Camp</b>
Chesterbrook Academy Elementary School in Chantilly will host a Fit Kids Sports Mania Camp for ages 6-9 from July 13-17. Camp will include an introduction to various sports with an emphasis on teamwork and good sportsmanship. Featured sports include, among others, T-ball, soccer, lacrosse, hockey and flag football. Bring a water bottle and wear sneakers. Call the school to register at 703-397-0555.